Getting Married in Belize is already such a unique experience but tie in getting married at a waterfall in Belize with a Mayan Shaman as your officiant and you will have an unforgettable wedding! Which is exactly what Sarah and Stephan experienced for their Mystical Waterfall Wedding.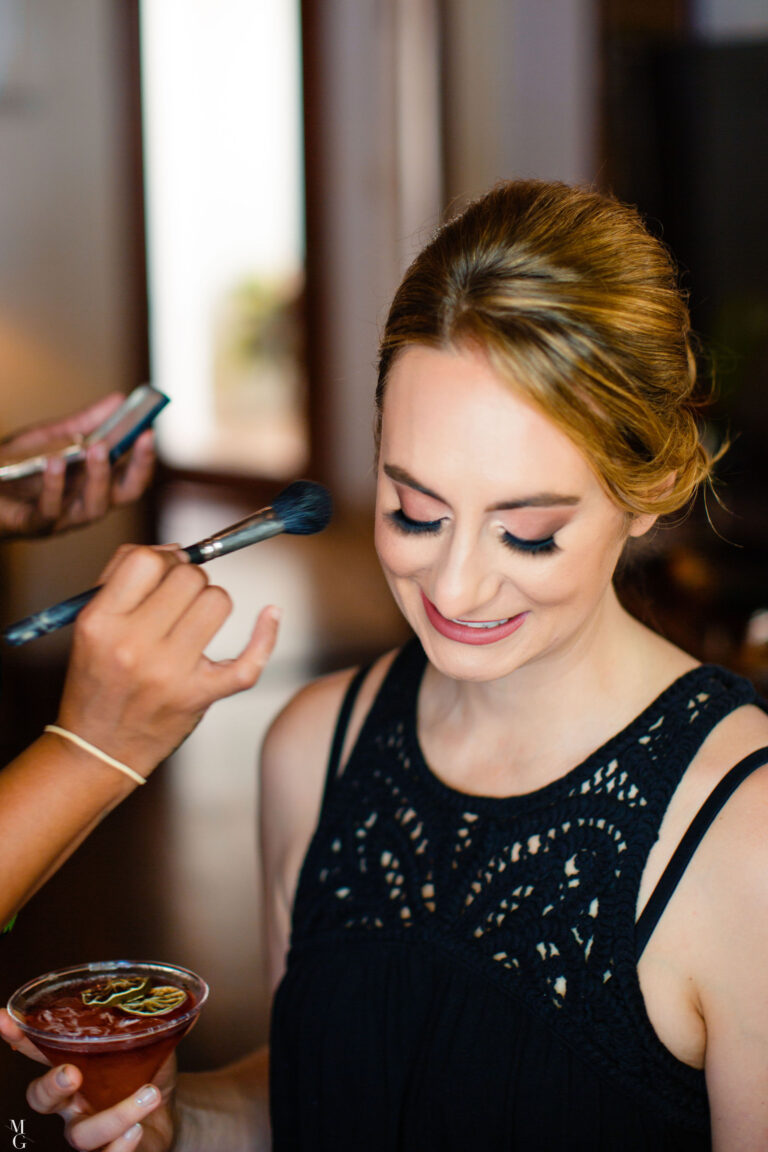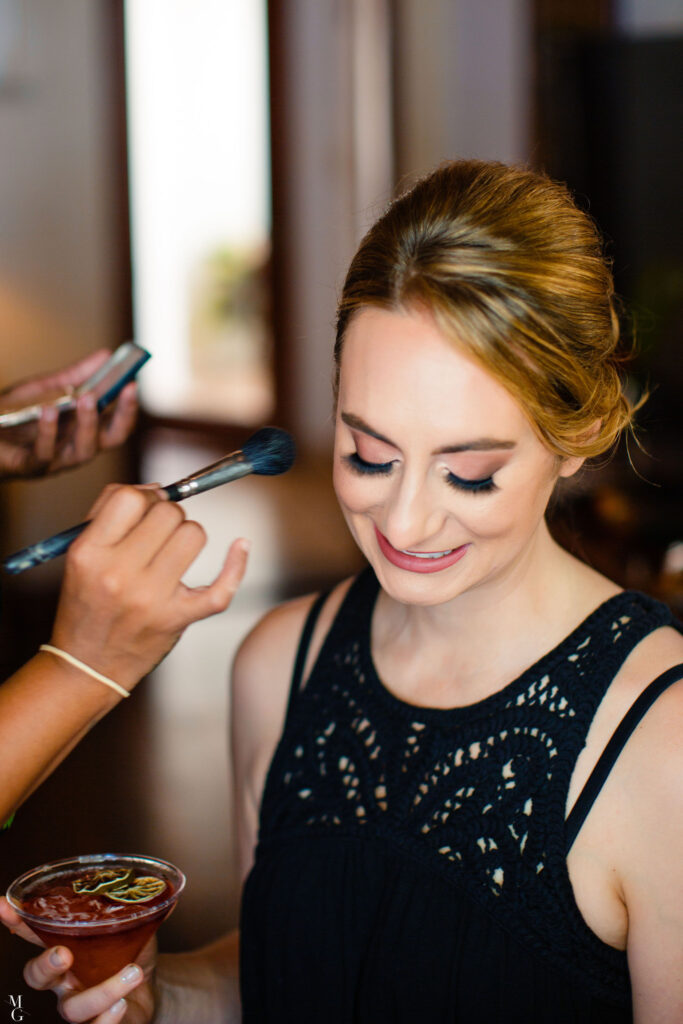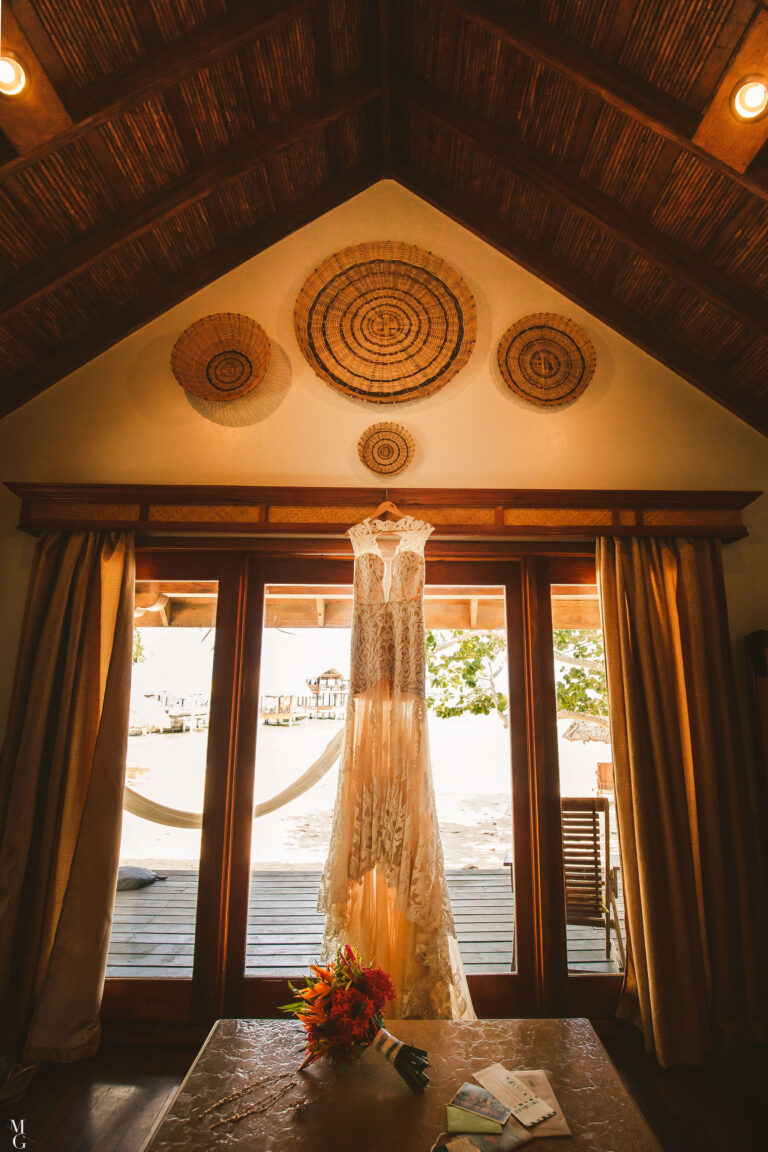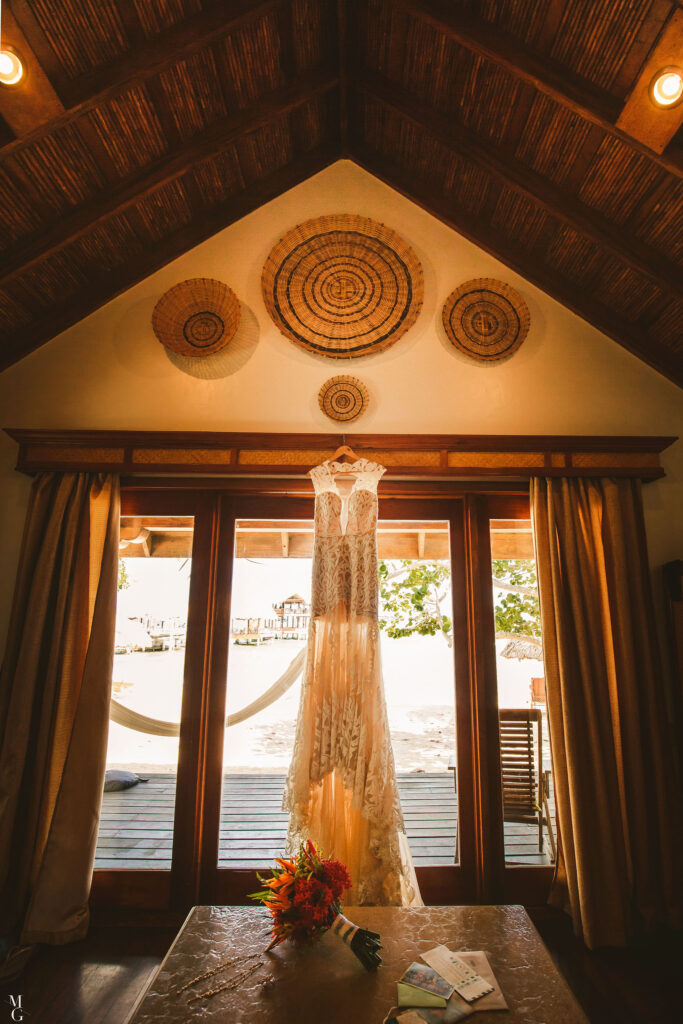 The day started at their resort Jaguar Reef in Hopkins, where Sarah and Stephan had already enjoyed a few days. They met with the wedding team for the first time on their wedding day after months of planning their destination wedding in Belize! Steph, our make-up artist, flew in from Ambergris Caye, while photographer Monica Gallardo drove to Hopkins from Belmopan which is the capital of Belize. I was on route via bus from Belize City but I'll tell you more about that  in a bit!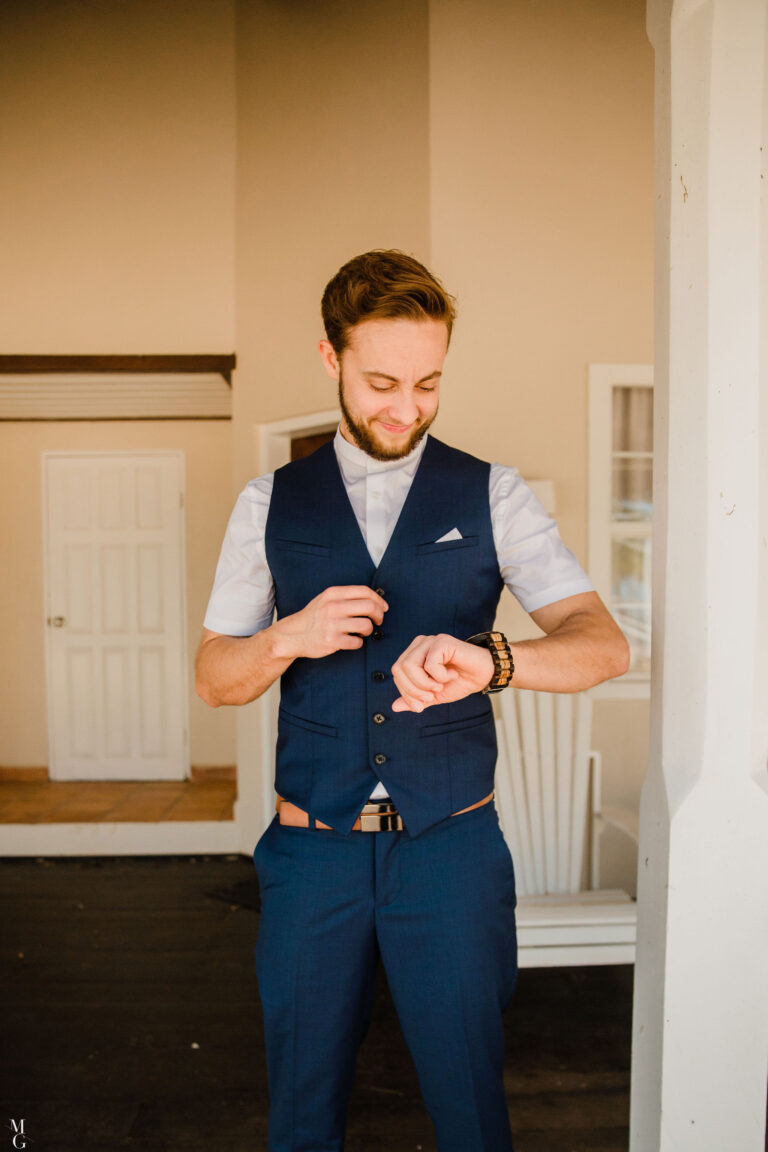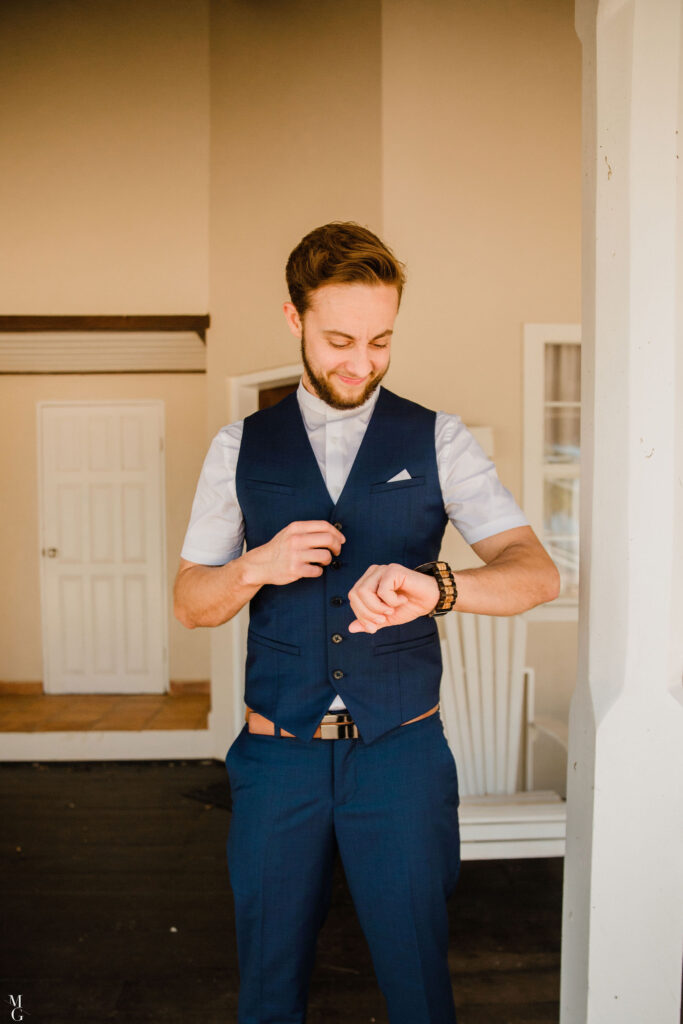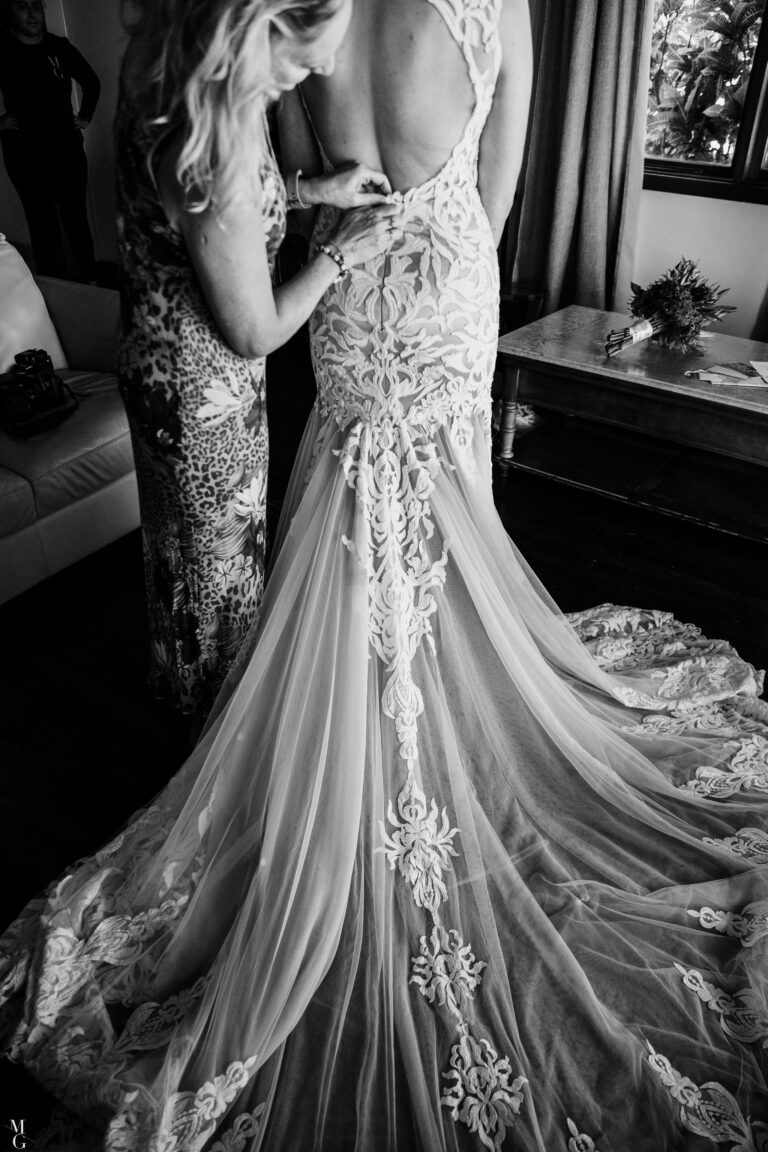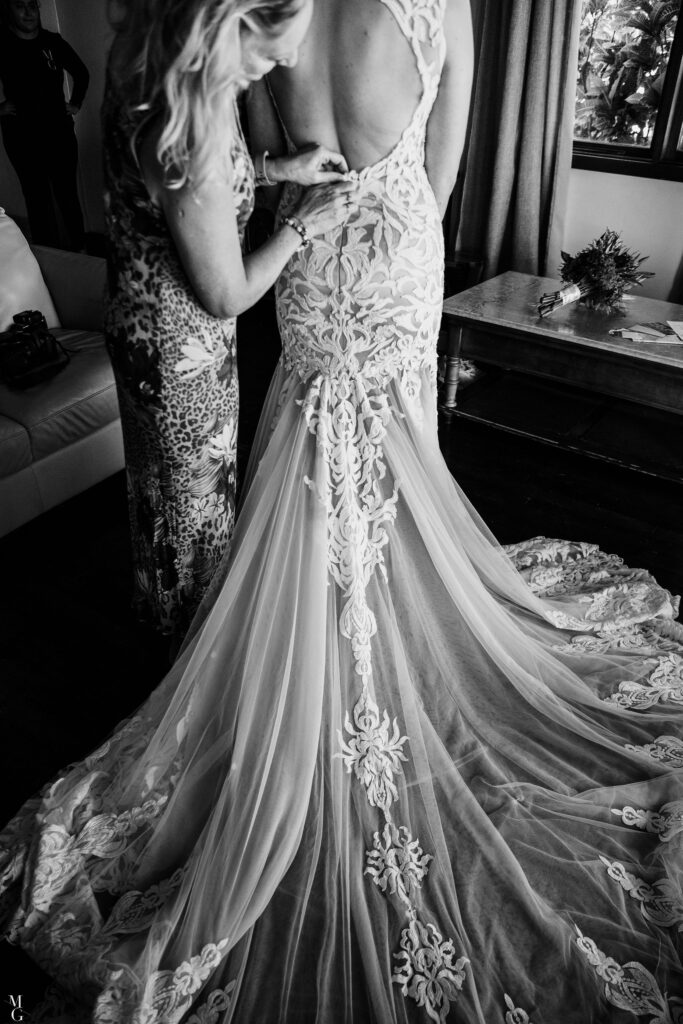 I arrived just in time to meet Stephan at the resort bar, where the bus driver and myself toasted to a wonderful wedding day with him! I then went to check on Sarah, she was almost ready, her mom was zipping up her beautiful fanback ivory lace dress. She was about to go meet Stephan for their first look photo session.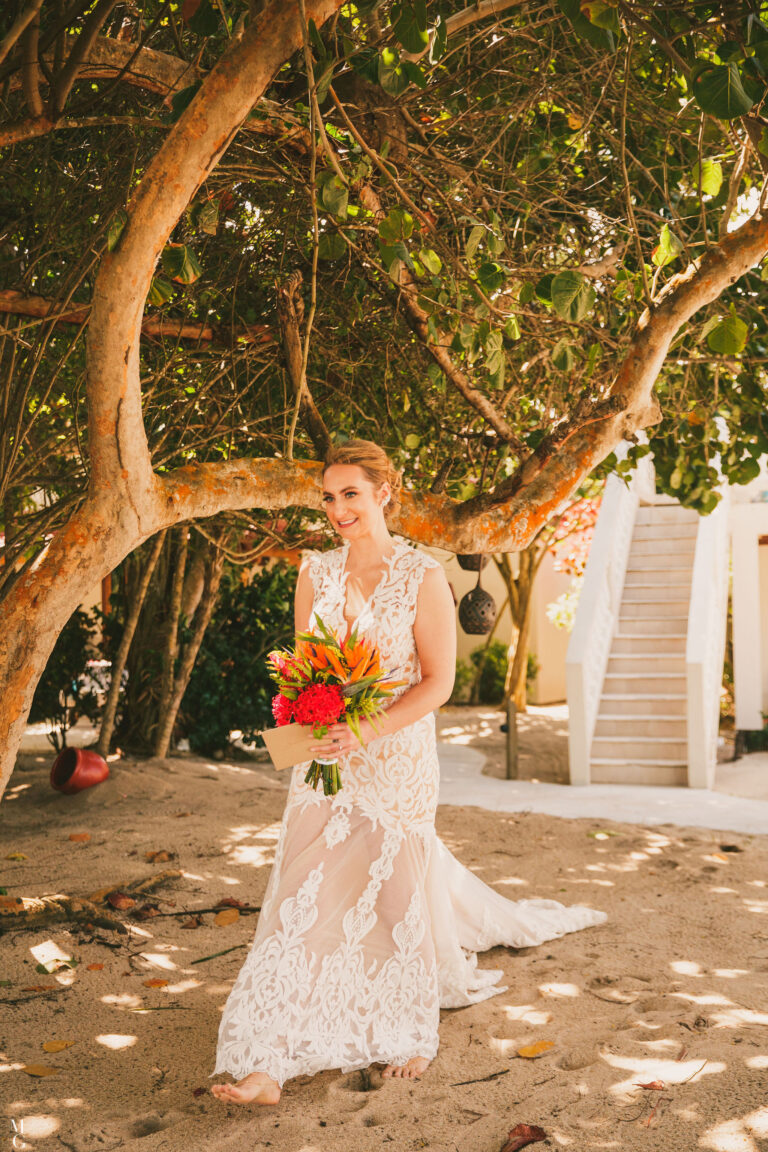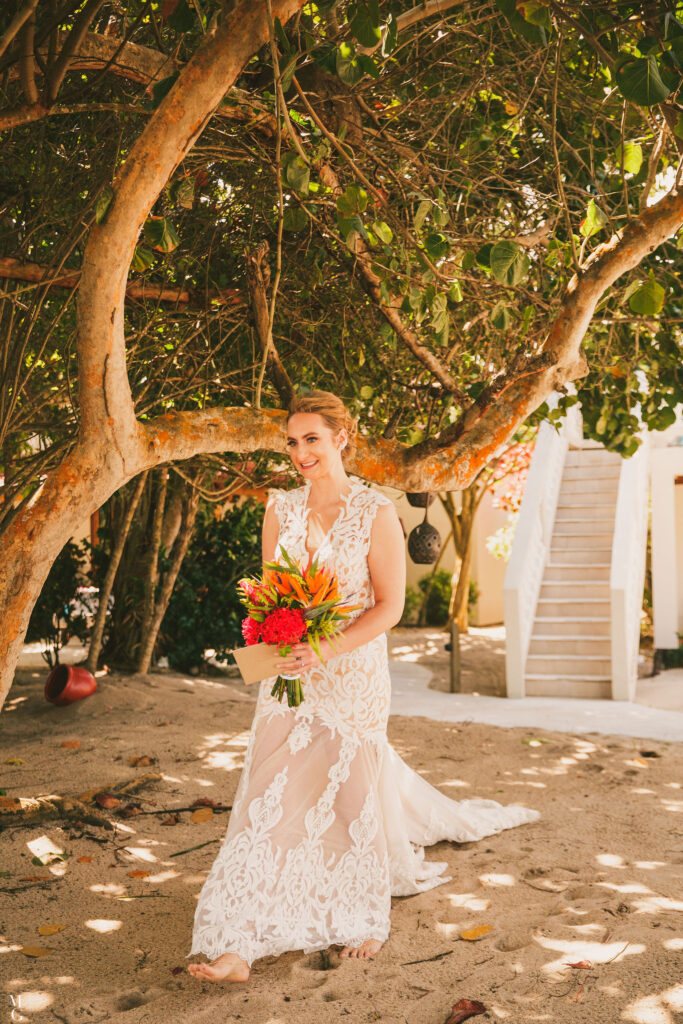 Sarah walked down the pathway behind her beach cabana lined with lush tropical plants. Her maid of honor fans out her wedding dress and she walks under a characteristic sea grape tree that dropped its colorful leaves like confetti as though it was all part of the plan!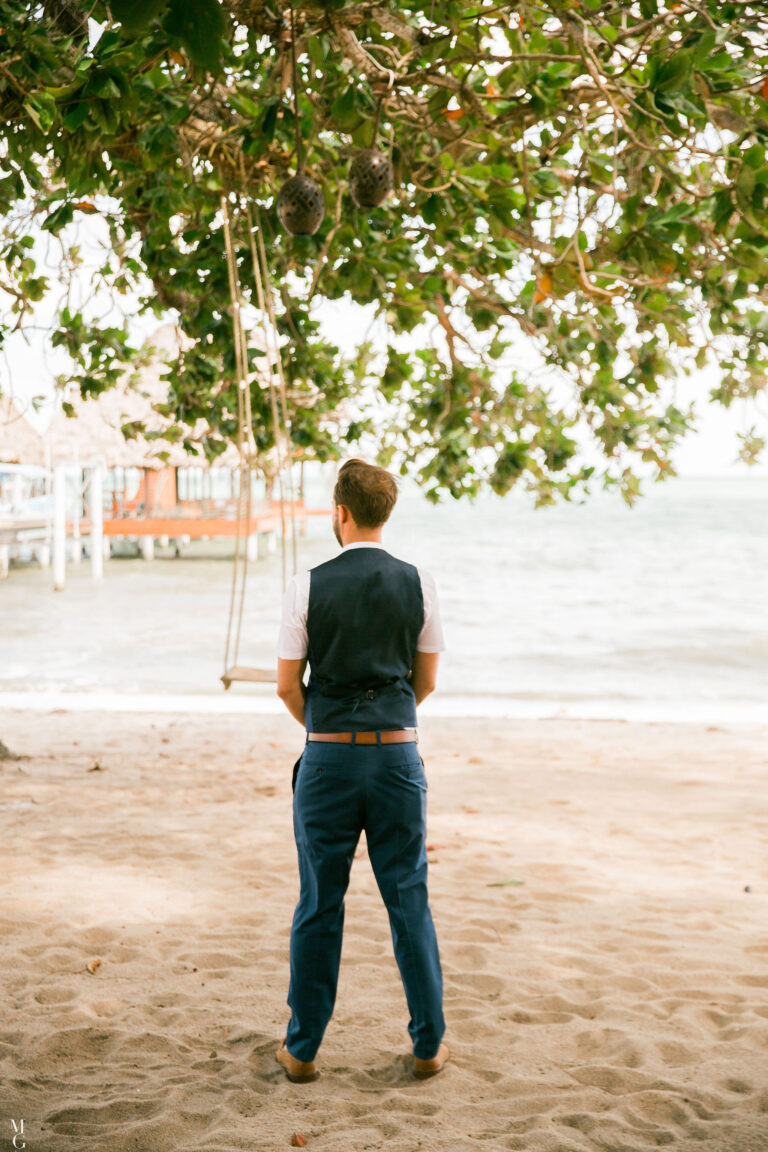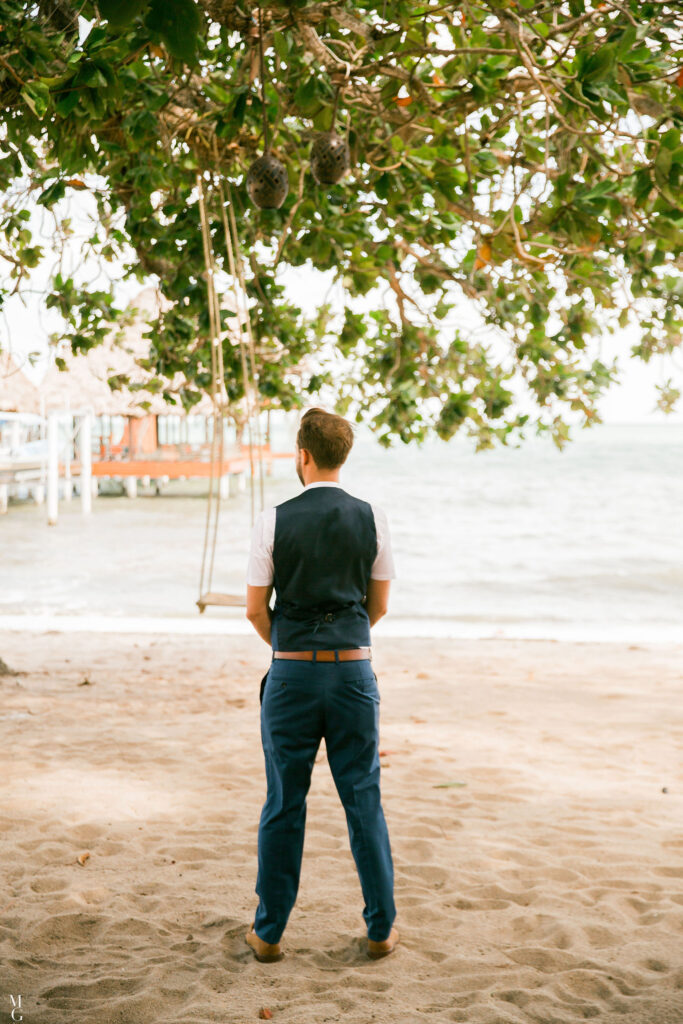 Stephan had his back to Sarah facing the Caribbean Sea that sparkled in the sunlight, you could tell he was taking deep breaths preparing to see his lovely bride for the first time in her wedding dress.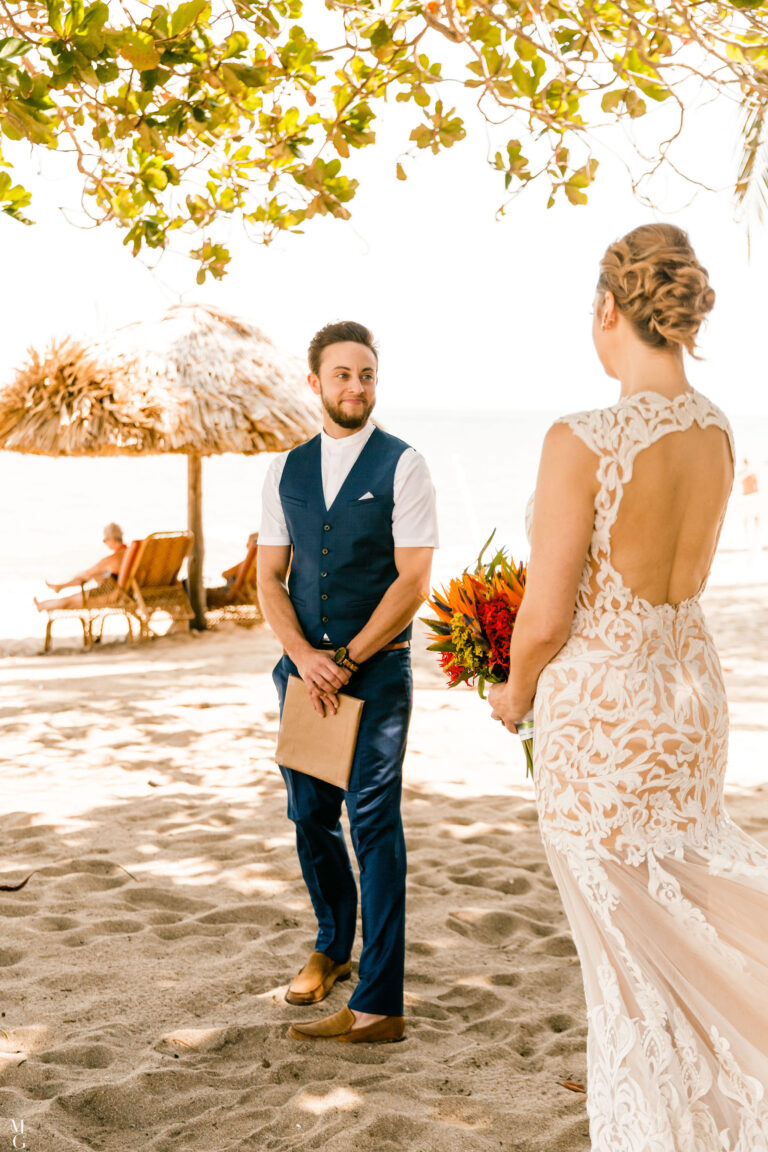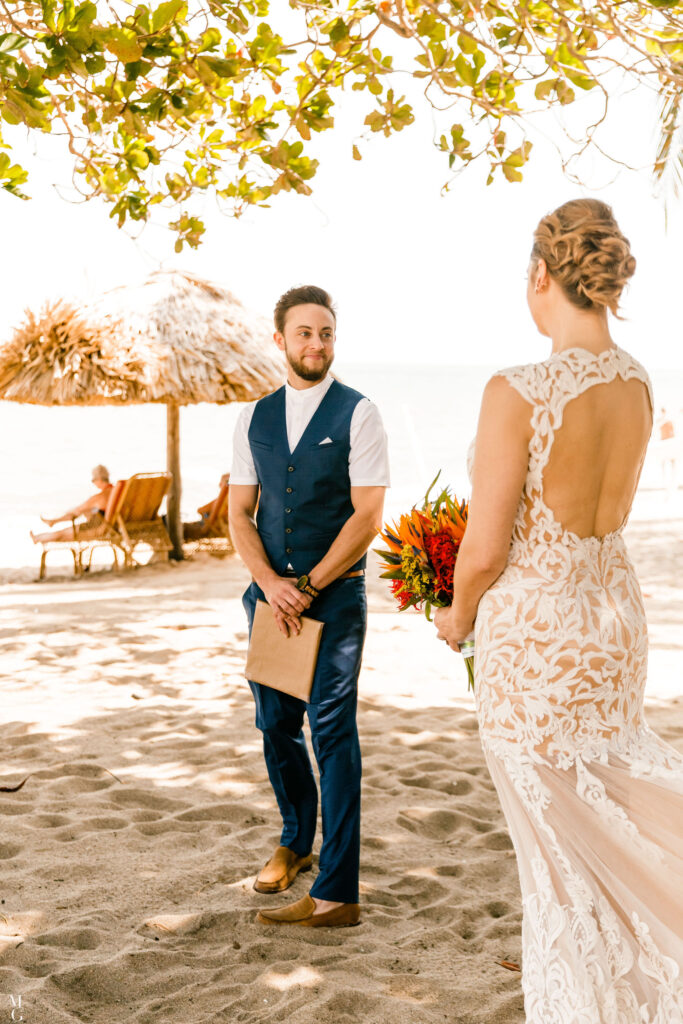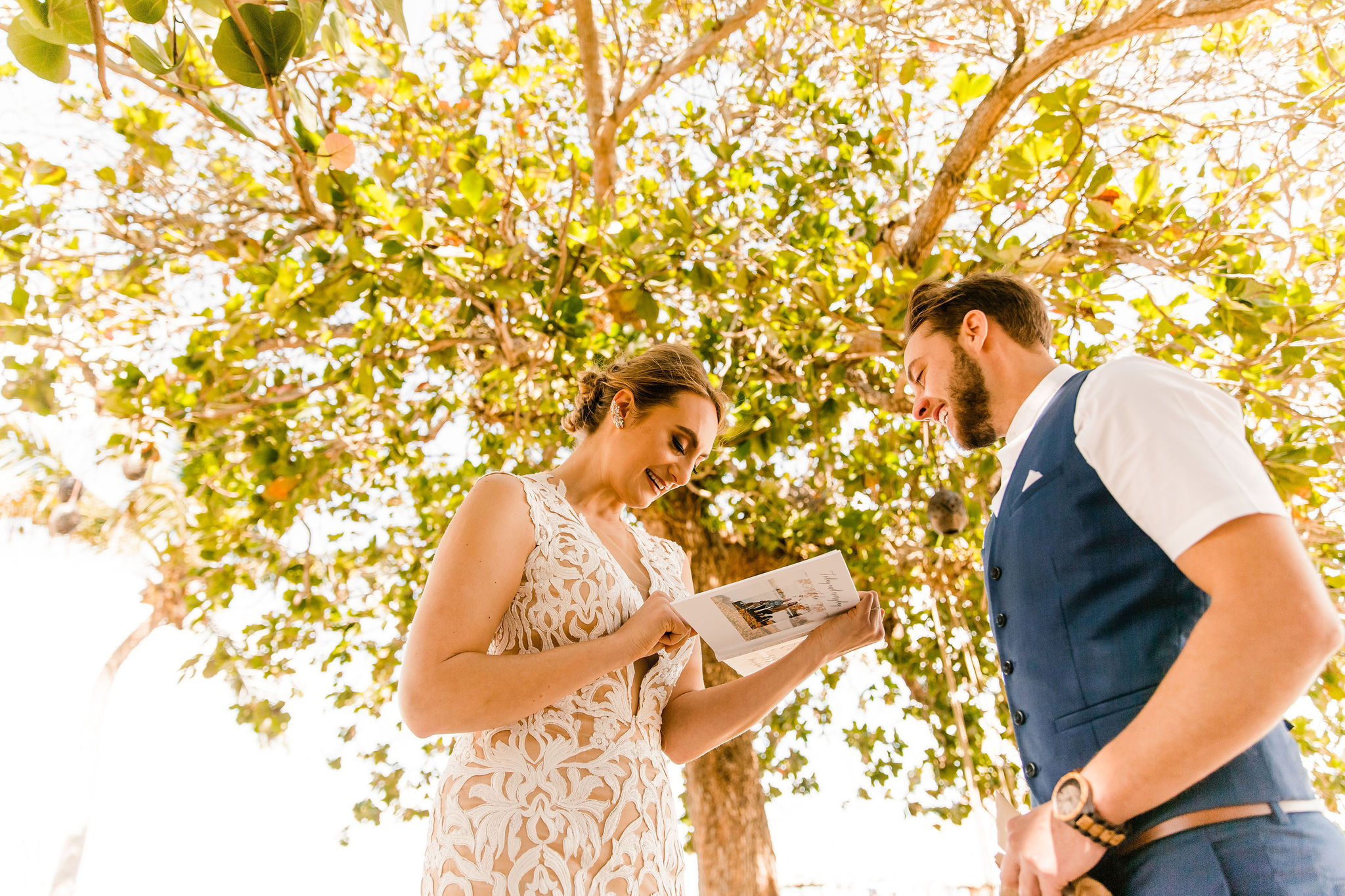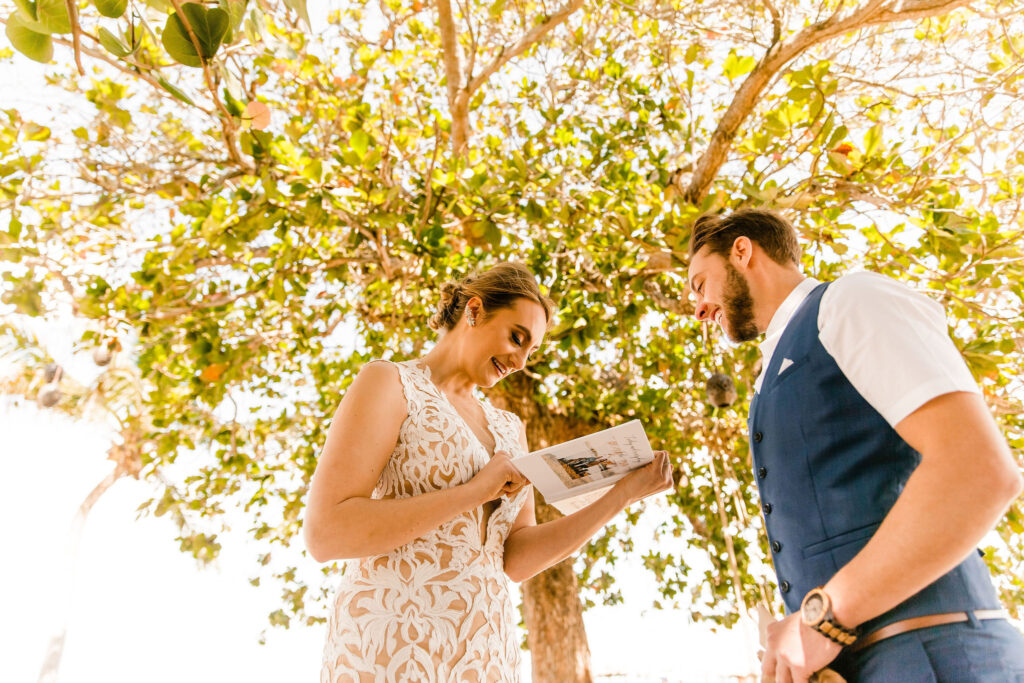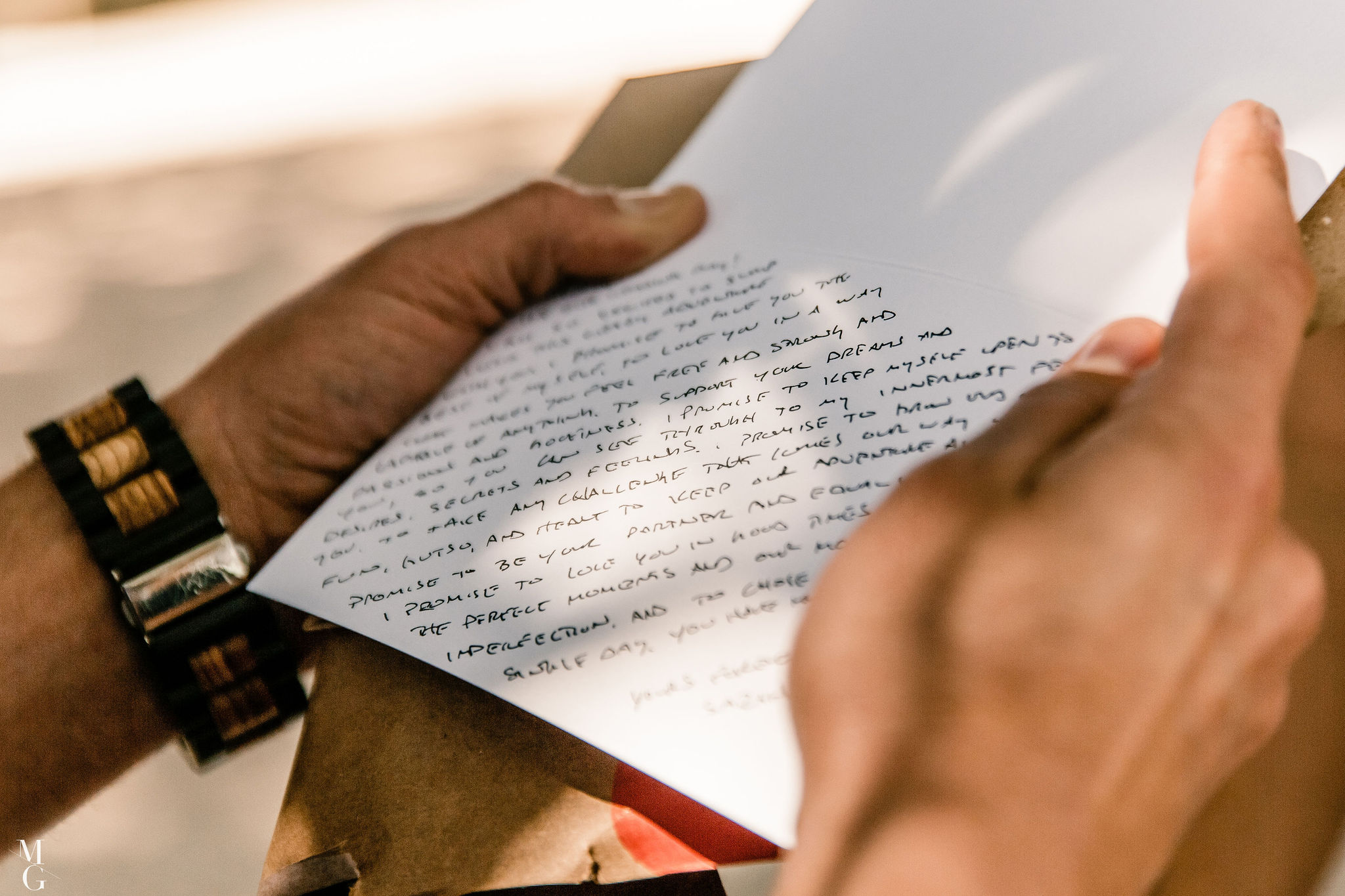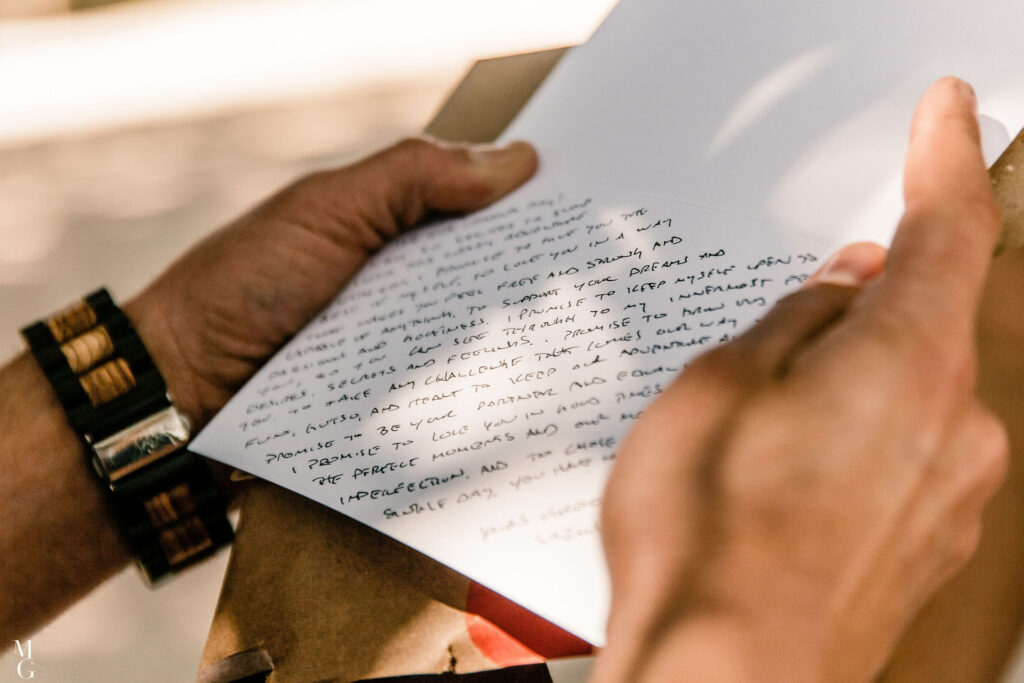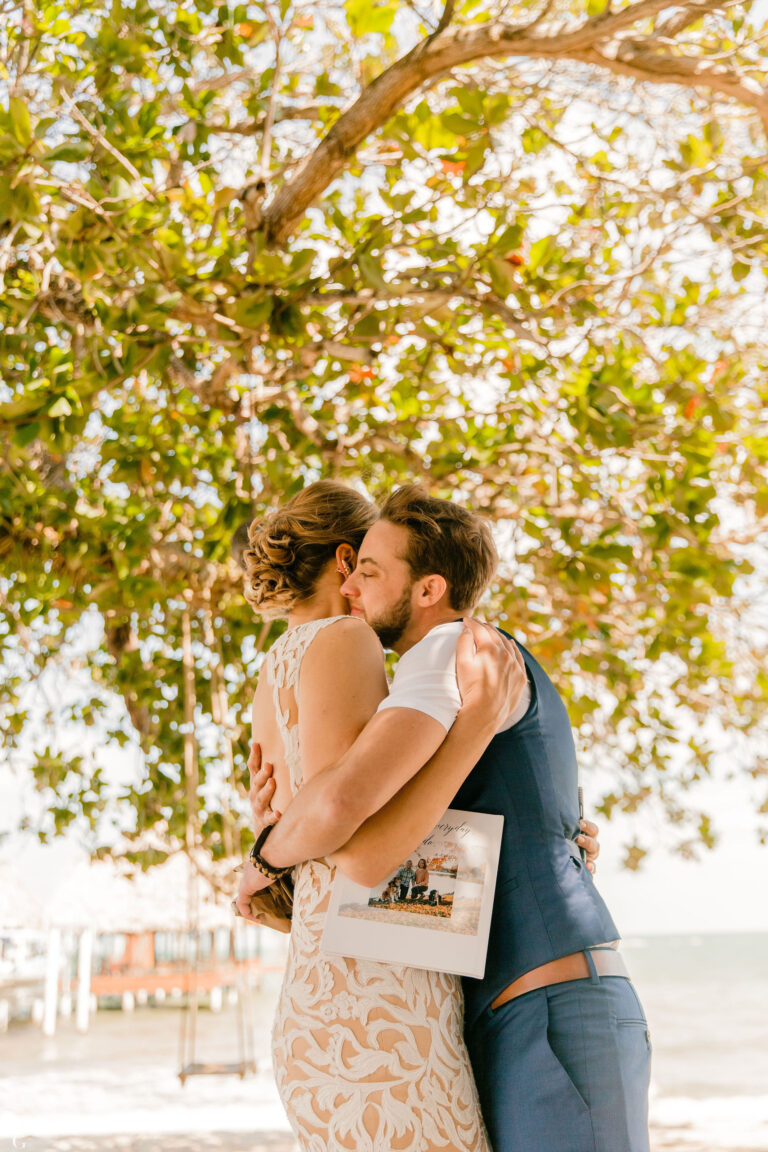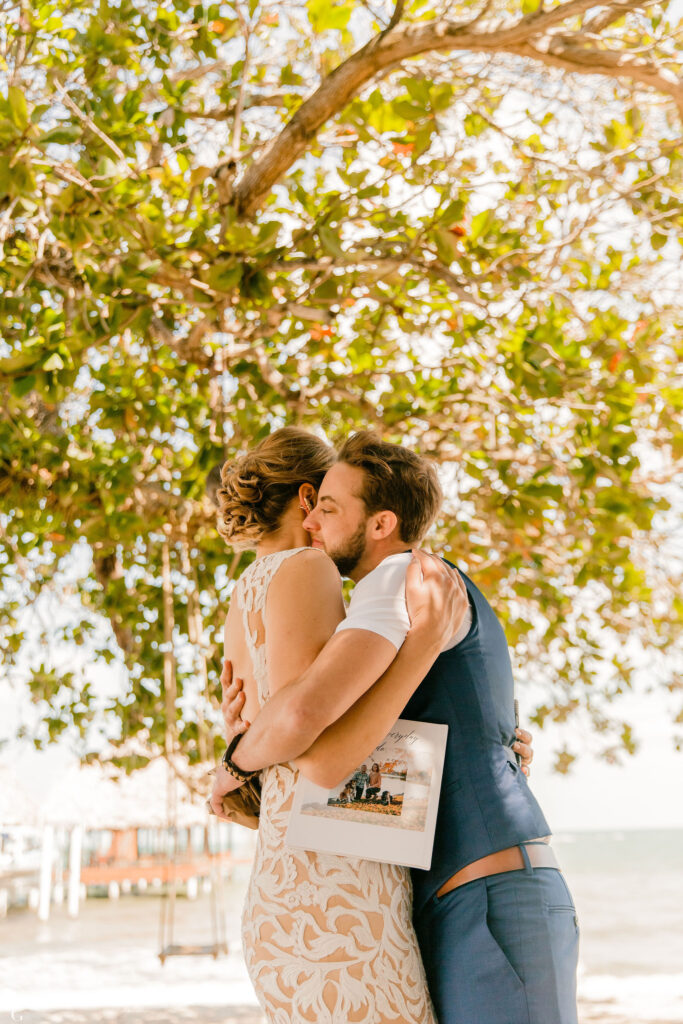 Sarah tapped her handsome groom on the shoulder and he turned around. His eyes lit up and he gave her a heartfelt smile. They embraced each other for a few moments, before they exchanged their wedding gifts, along with a hand written letter of the promises they are making to each other. It was such a beautiful moment that they were able to share with all their guests.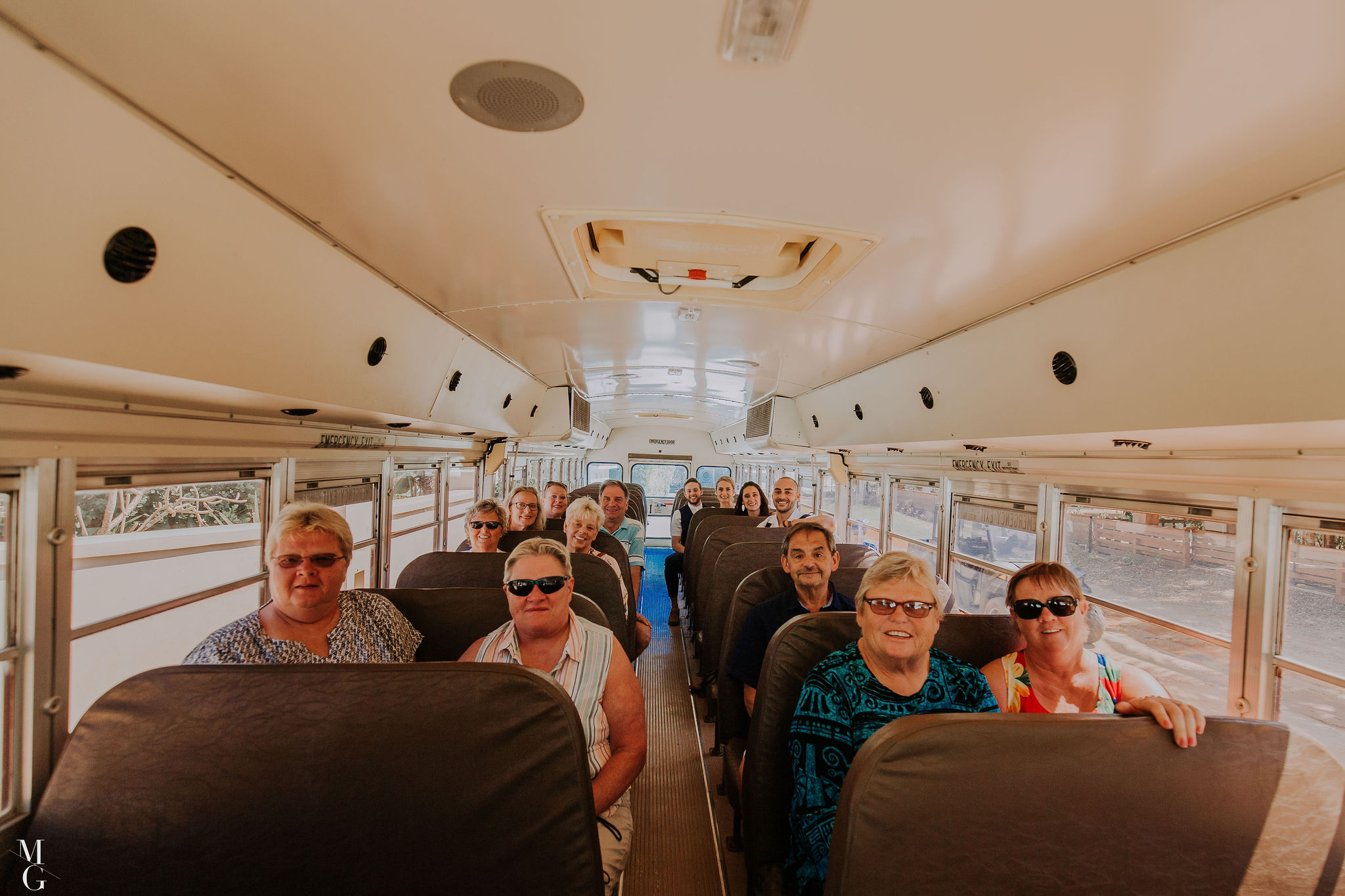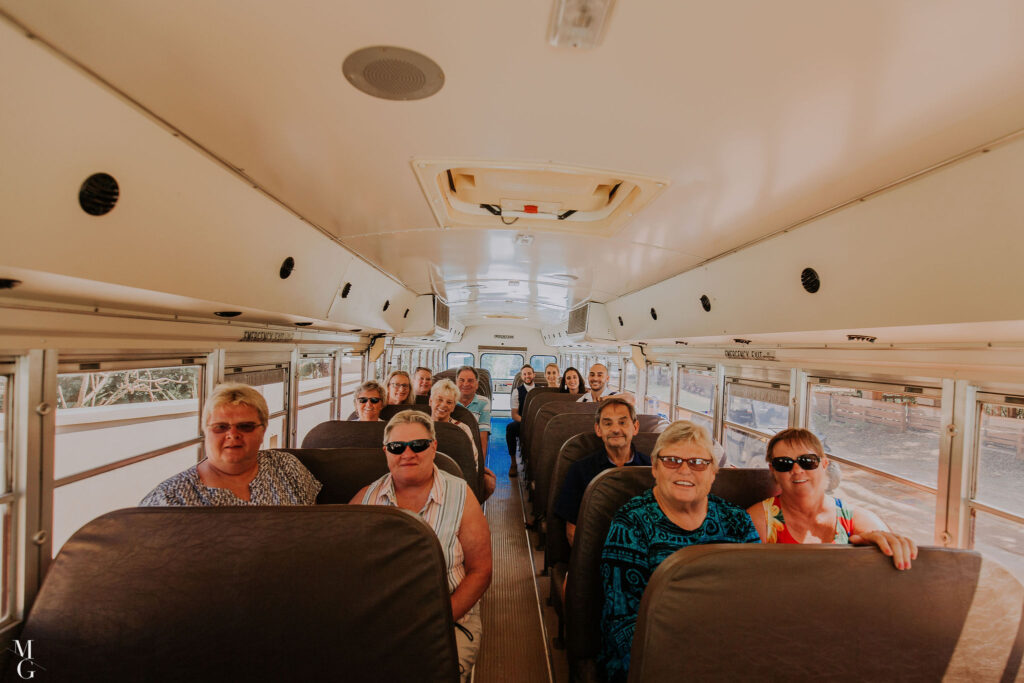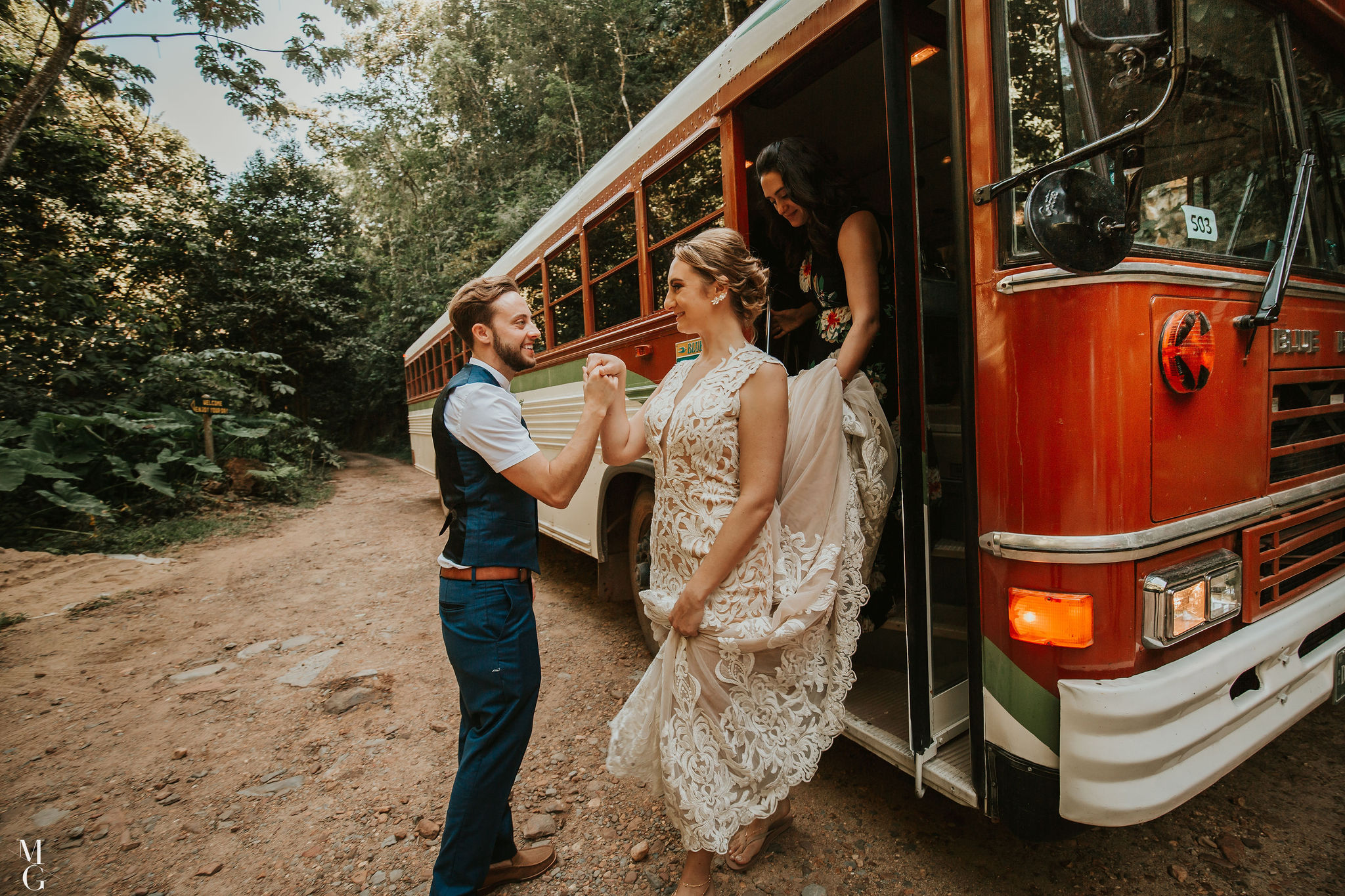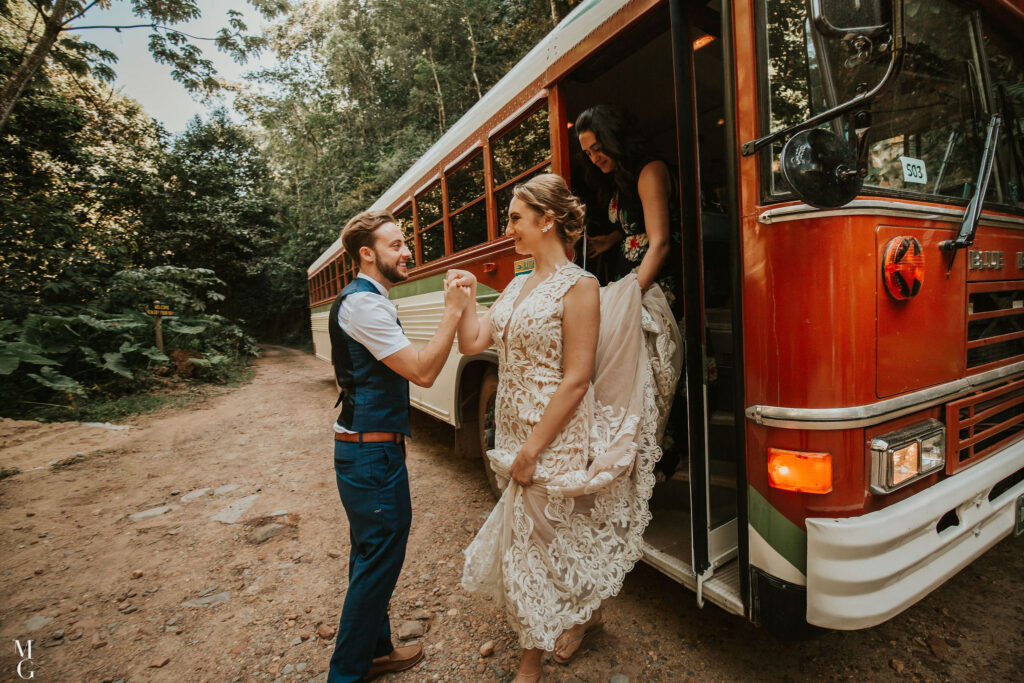 Everyone dried up their tears of joy and we all headed to our next destination via a long colourful school bus. This was one of Sarah's most important requests. She had seen photographs of the school busses brought to Belize that are painted in vibrant colors and repurposed for everyday commutes throughout the country Belize, she fell in love with the idea of chartering one for the Wedding day! It added an extra sense of Adventure and the best part was that there was plenty of room for everybody in one trip!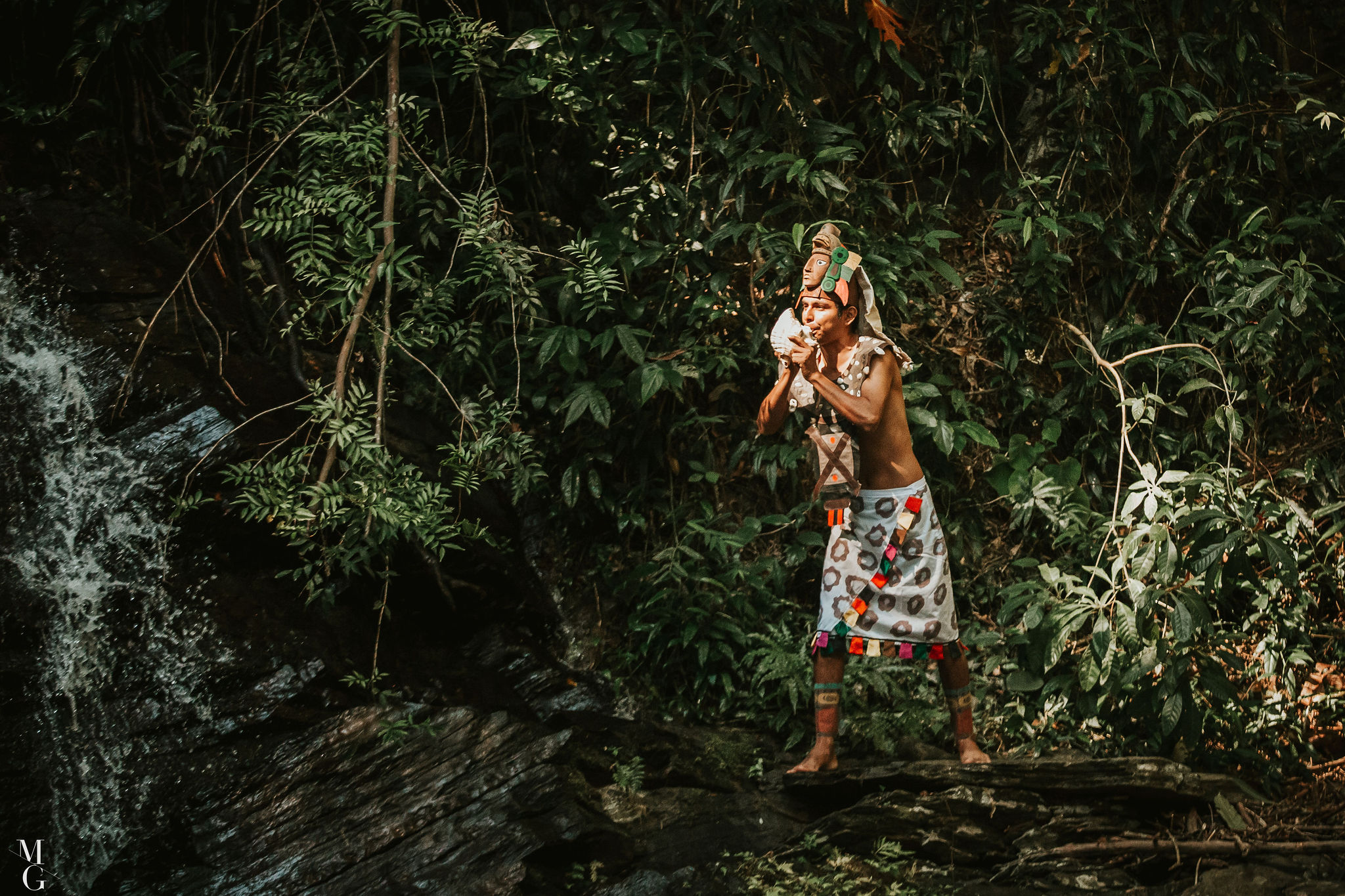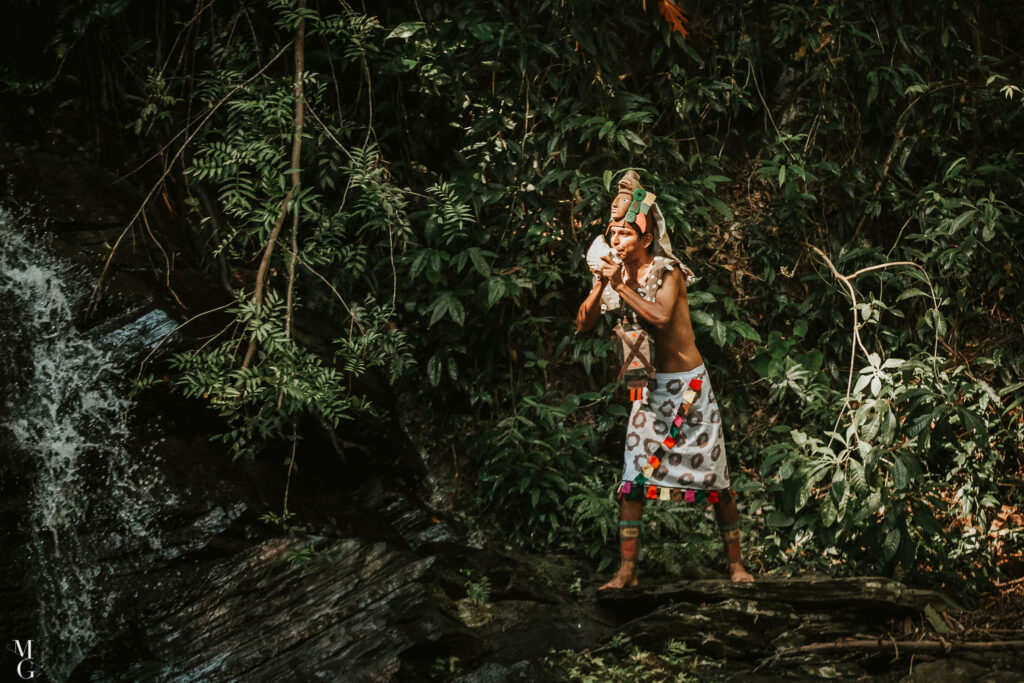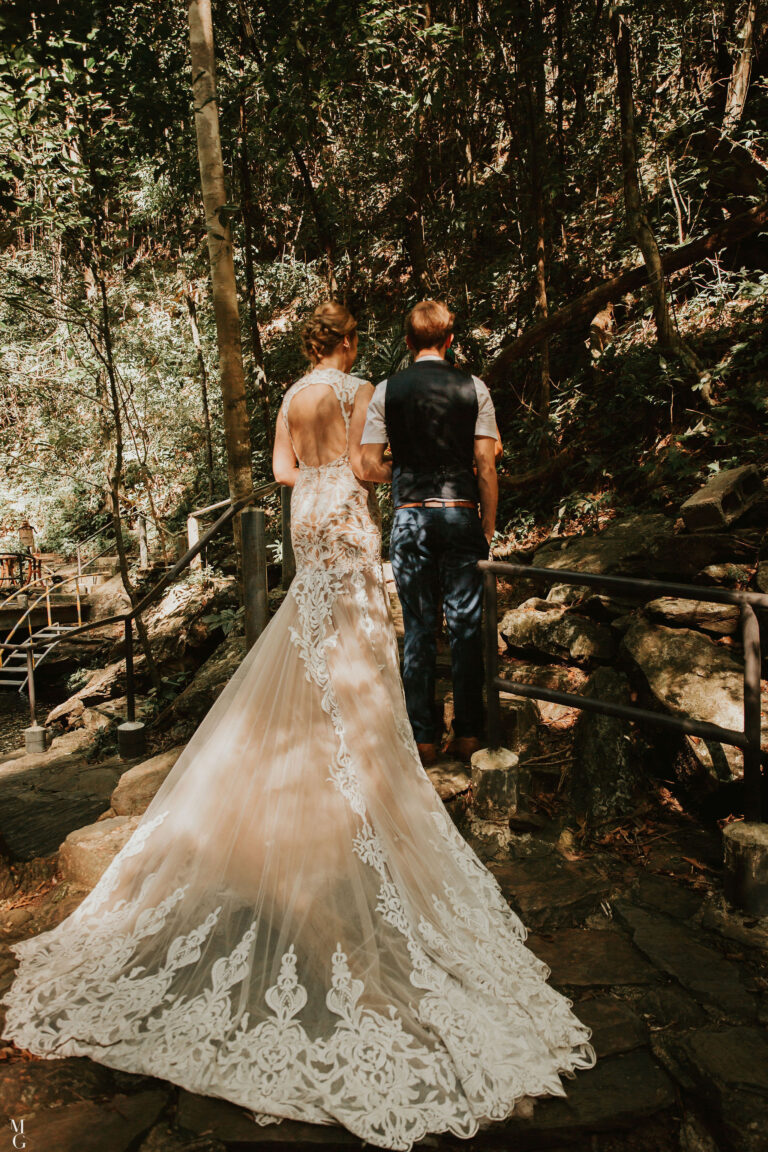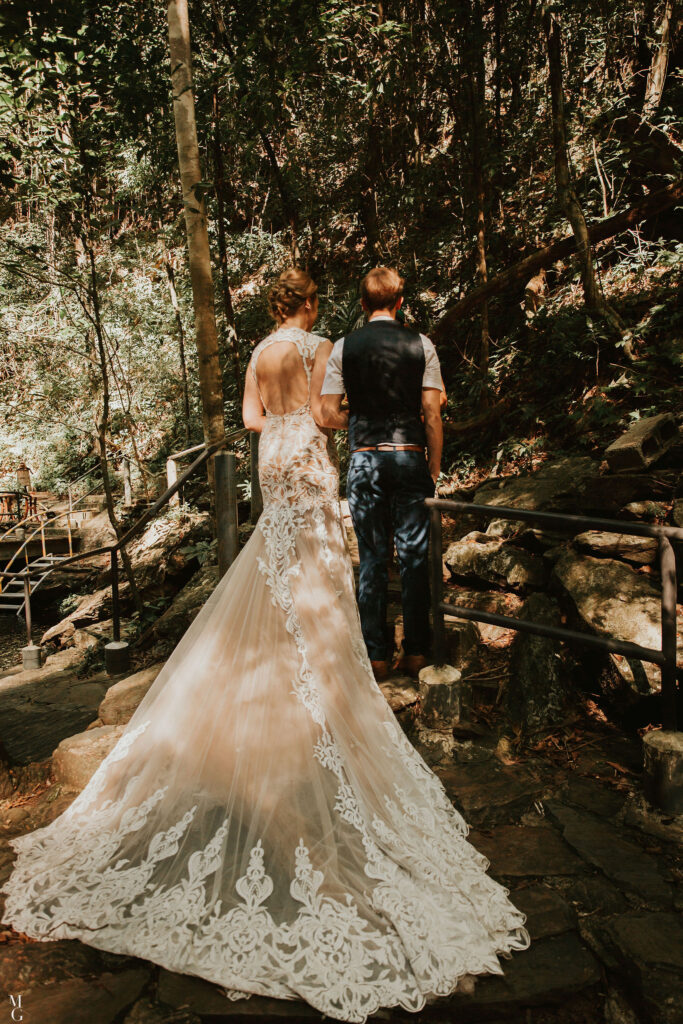 At around noon we started the journey to Maya King falls which is in the Stann Creek District. It was a beautiful scenic 45 minute drive from the Resort. Everyone enjoyed nice cold drinks along the way while sightseeing. Once we arrived we walked off the bus and headed to the open air Restaurant located at the falls. I coordinated everyone in the order we were going to be at the ceremony. Then I went to meet the Mayan Shaman to let him know we were ready to start the ceremony.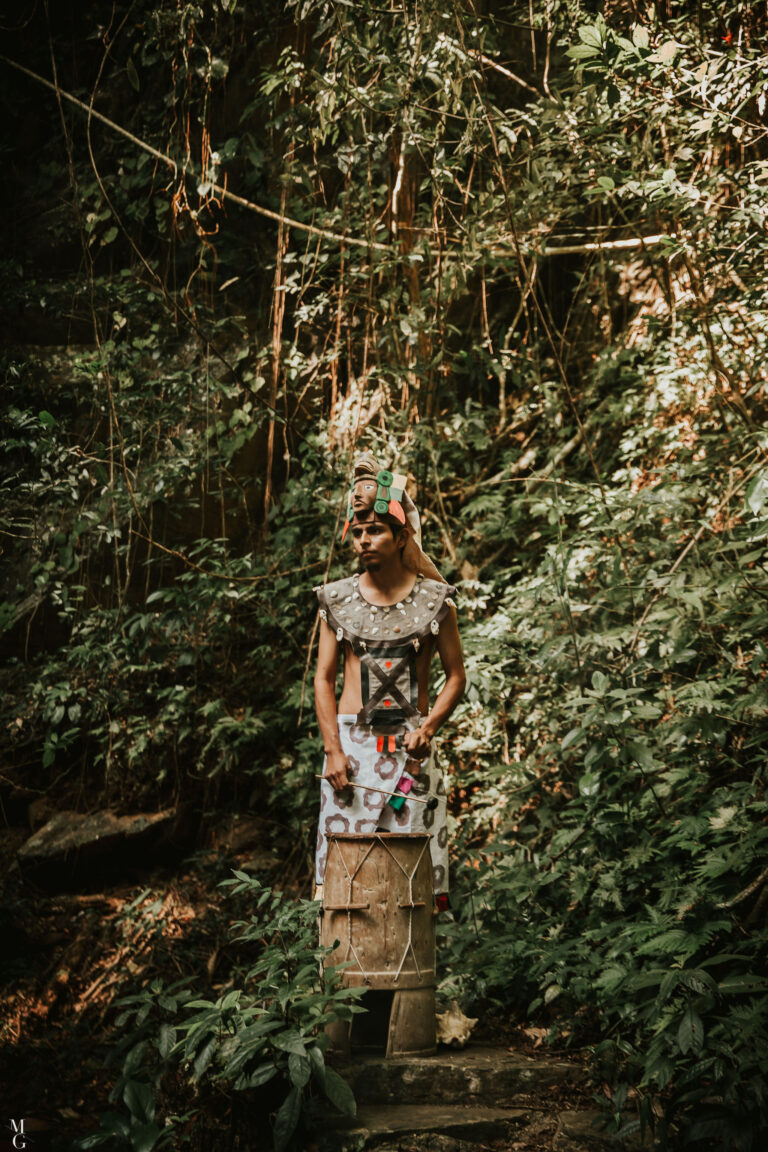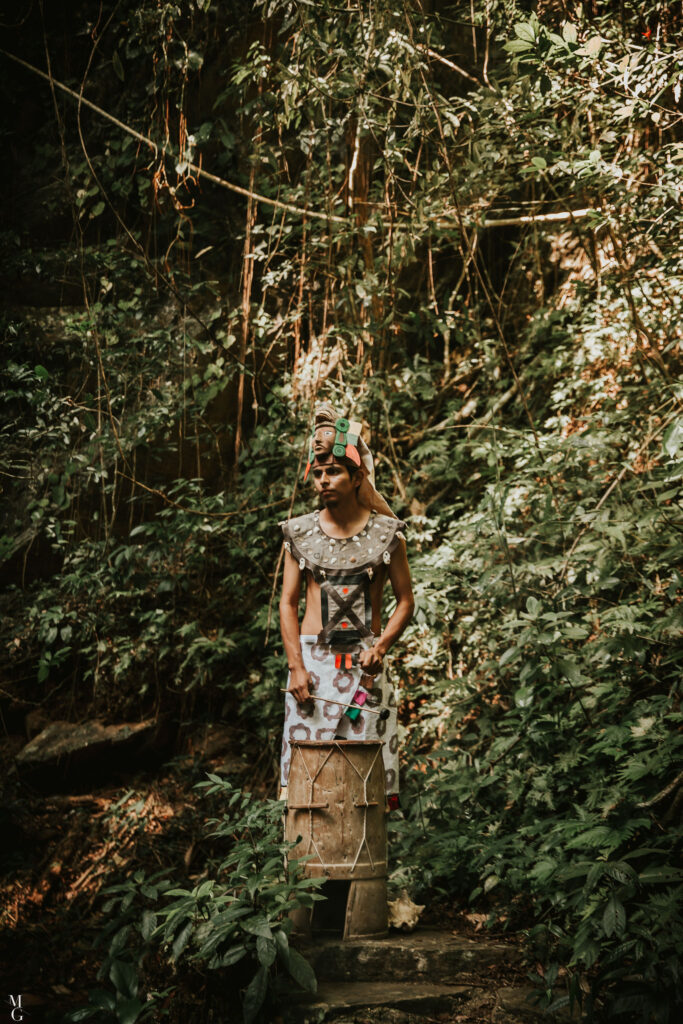 The ceremony began with the ancient sounds of a conch shell blowing coming from near the waterfall and the sound of mayan drumming coming from another area. The mystic sounds filled the air, echoed through the jungle and reverberated around the sacred area where the mayan wedding ceremony ritual was about to take place. Every time the conch shell was blown Sara and Stephan took a few steps closer to the ceremony area.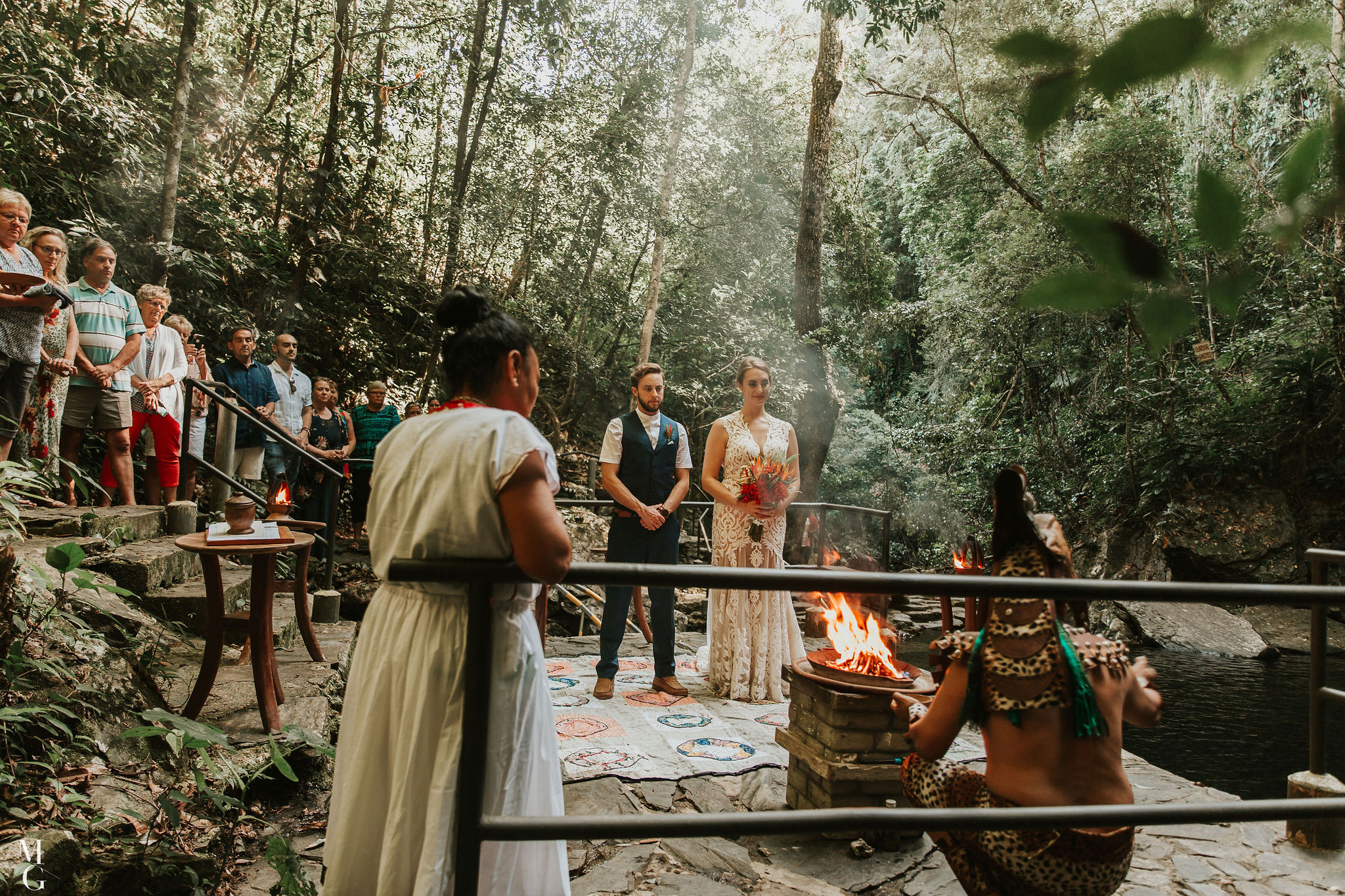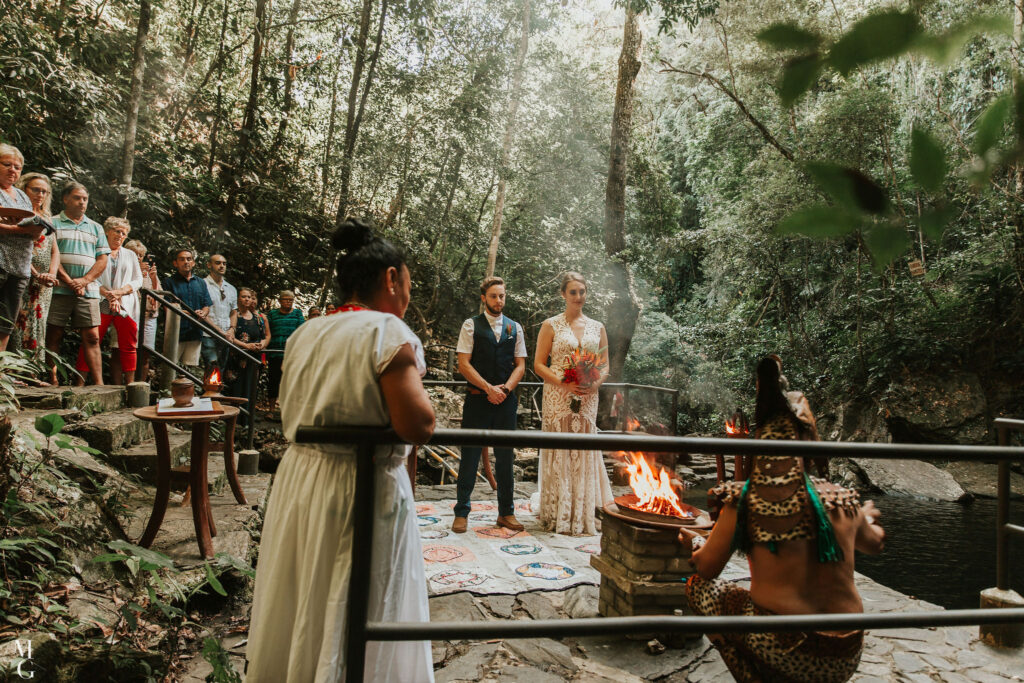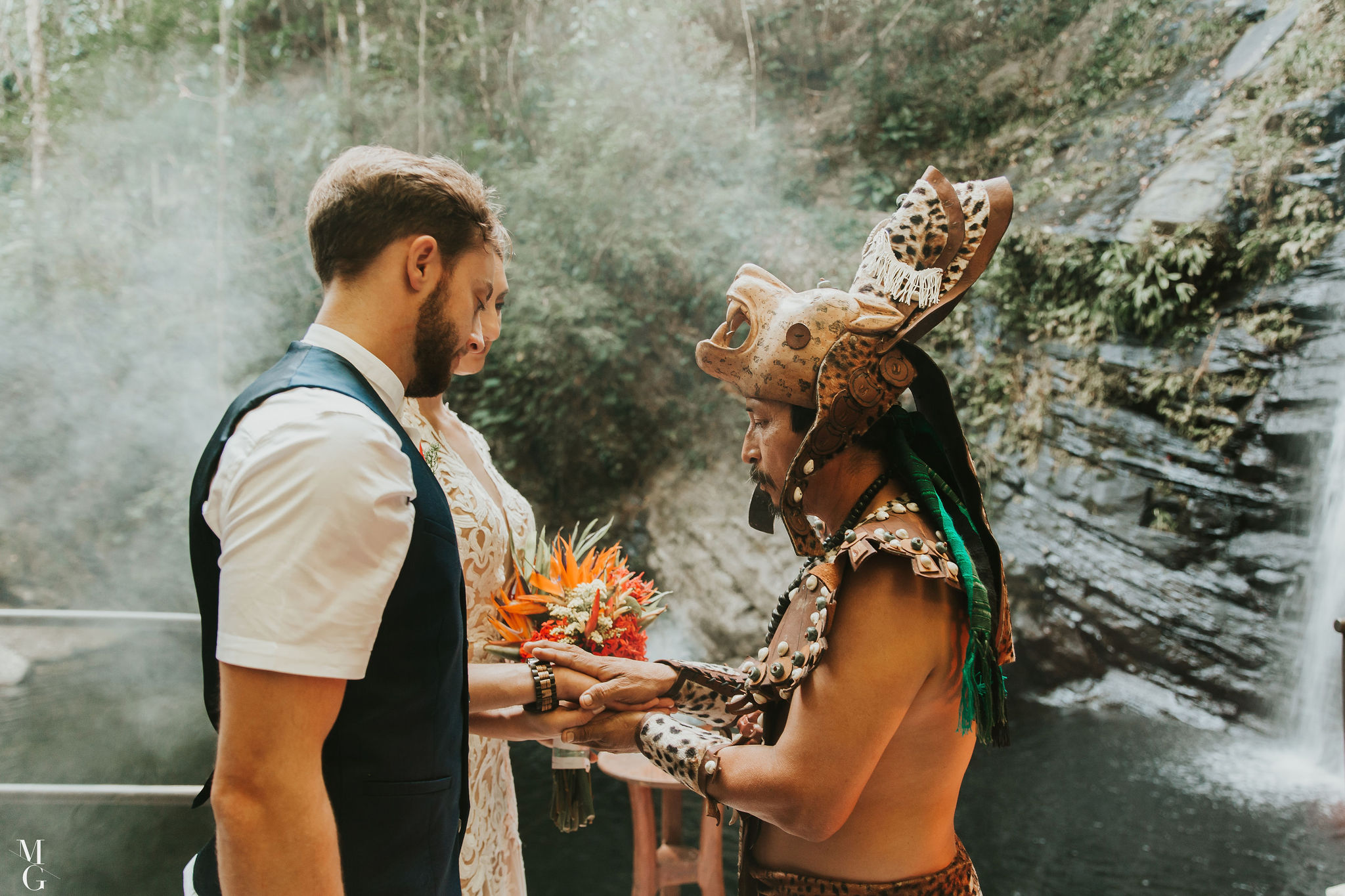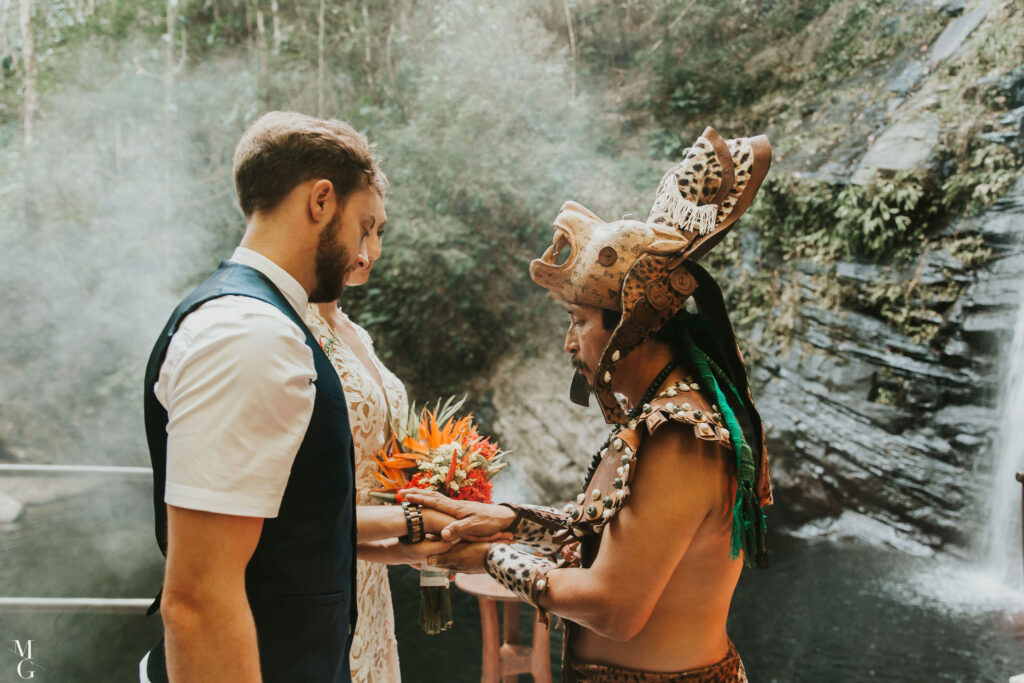 The wedding guests followed a few feet behind and aligned nearby overlooking the waterfall and ceremony area that was decorated with copal smoke coming from an entrancing fire that was burning near the ceremony area. Sarah and Stephan stepped onto the ceremony rug on a platform near the highest point of the waterfall. The water trickling down the rocks splashing onto the waterpool and the backdrop of Jungle leaves and trees set the most magnificent ambience for this mystical wedding ceremony that was taking place.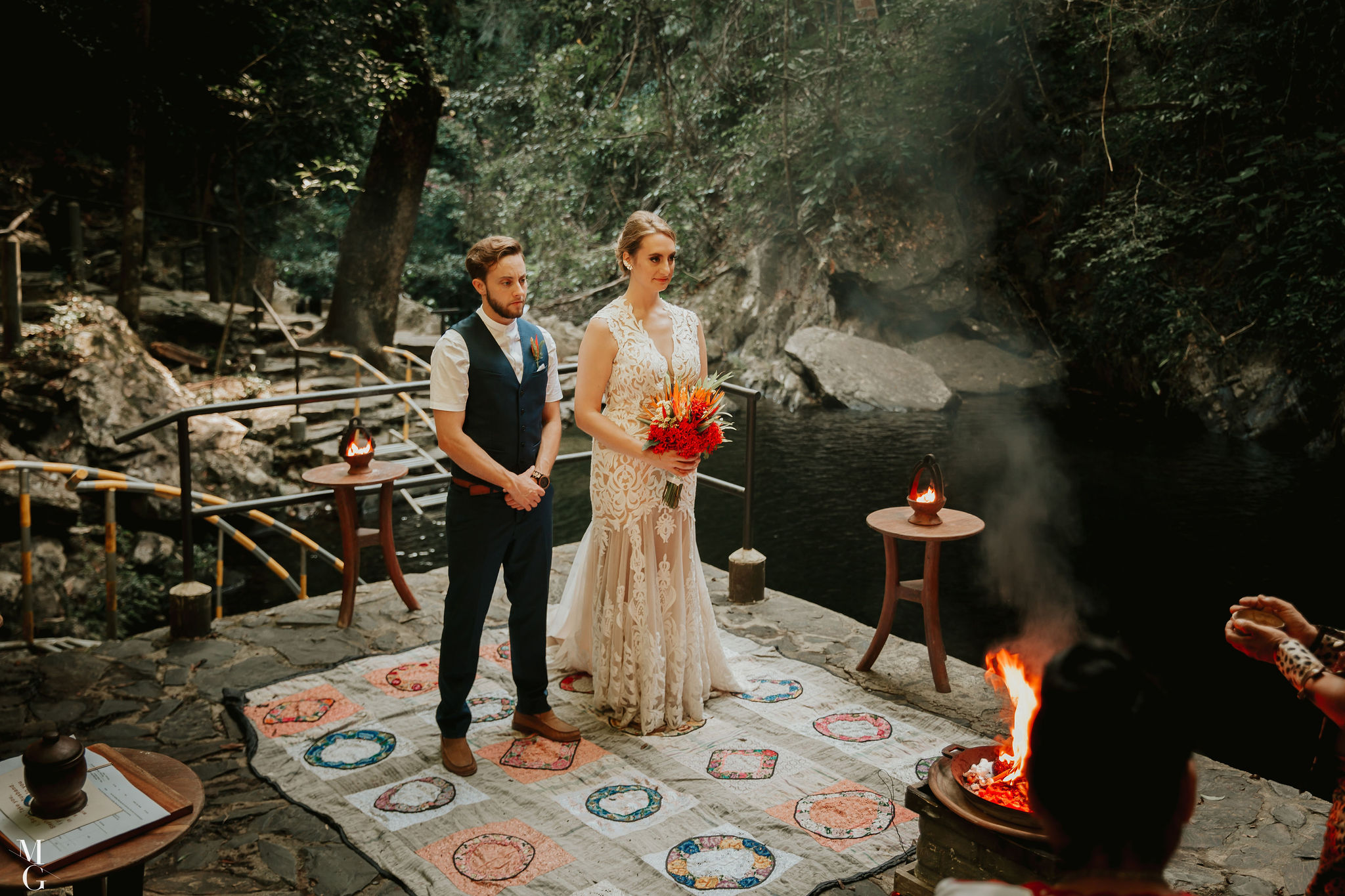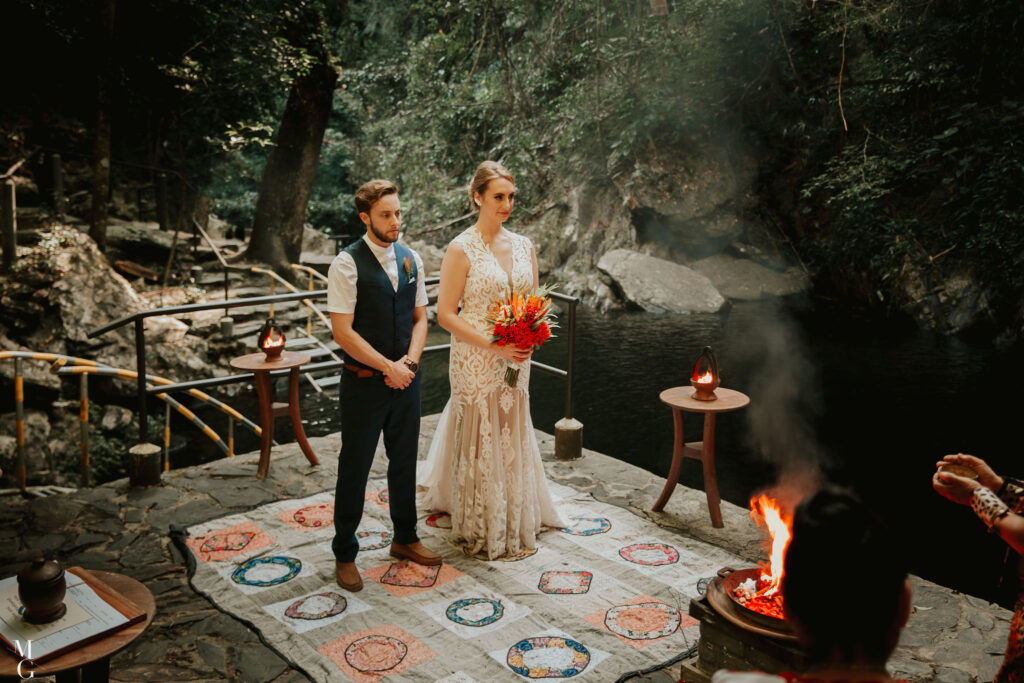 You could not help but feel the energy of love shooting through your soul. The shaman prayed and introduced Sarah and Stephan to the four cardinal points. The Sacred ritual took about 30 minutes. After the ceremony the couple was presented with a Mayan wooden plaque carved by the shaman out of cedar wood. It was truly one of the most majestic ceremonies I have ever had the pleasure to attend.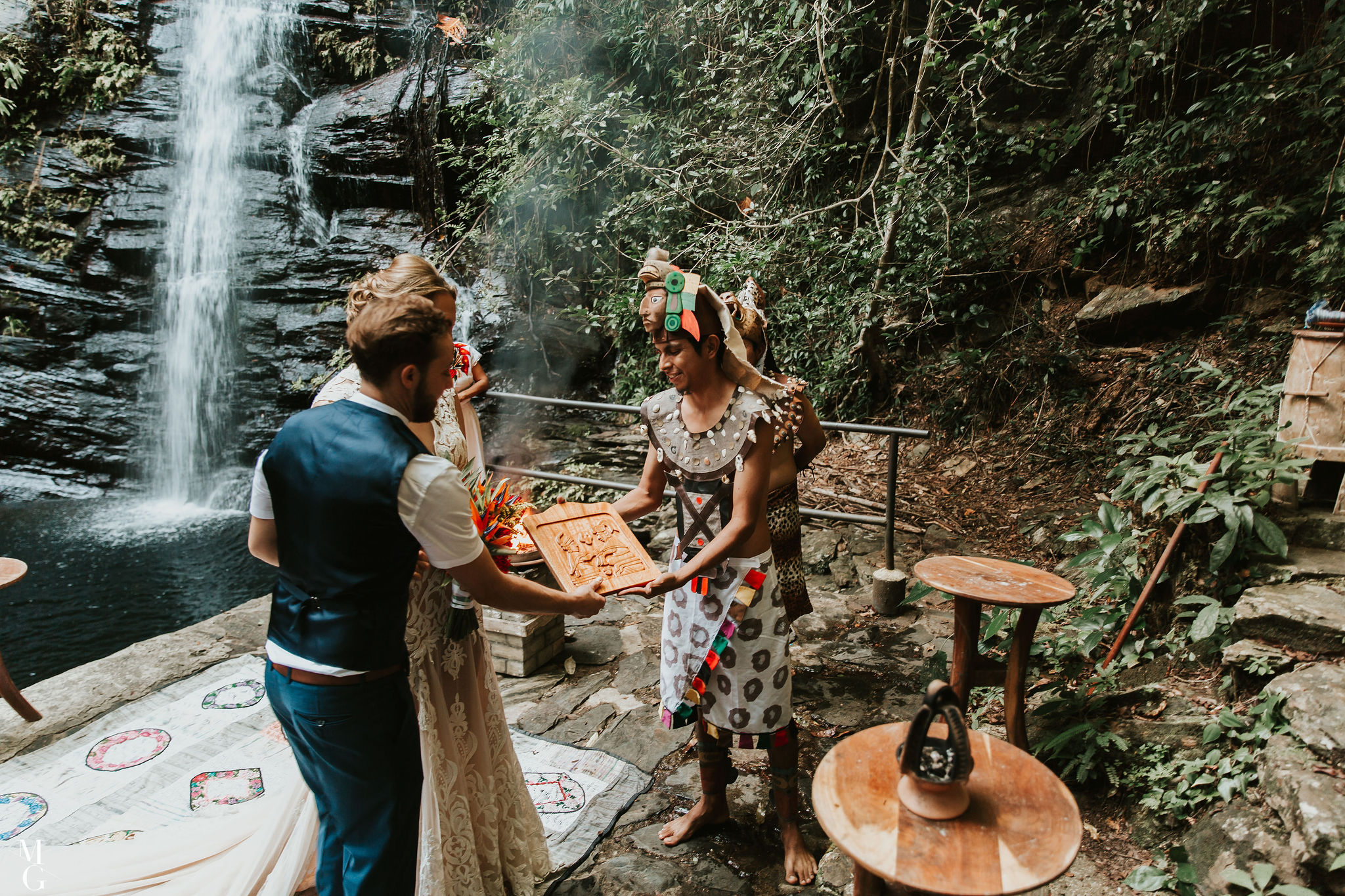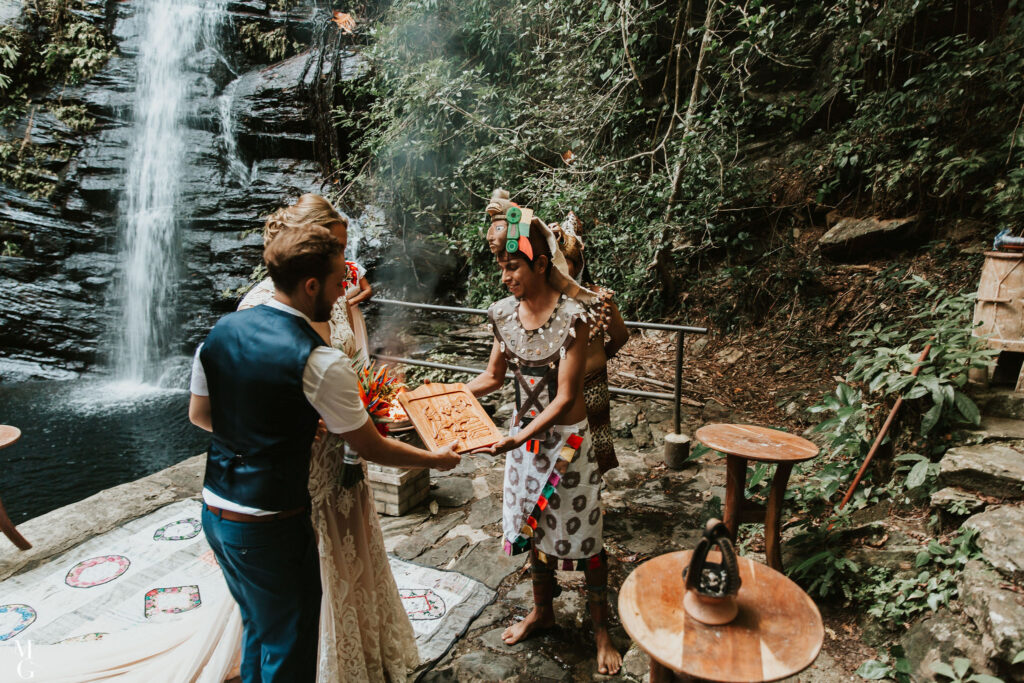 After the ceremony was over and they had done some portraits with their photographer Sarah Stephan and their guests took the opportunity to jump into the refreshing healing waters of the waterfall. They were filled with love and joy and you could tell they could not be happier. Everyone quickly changed into dry clothes and hoped back on the bus and headed back to Hopkins.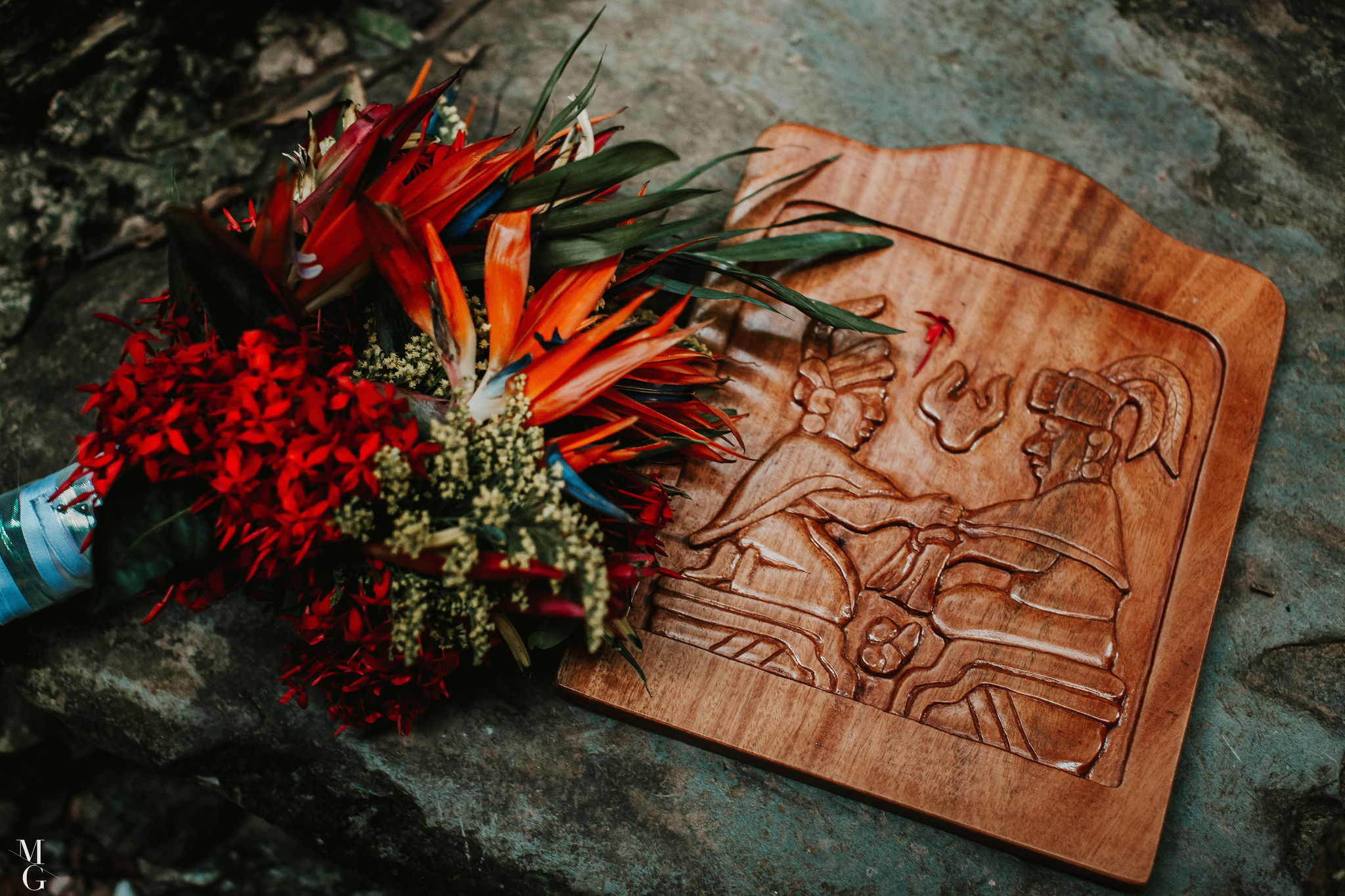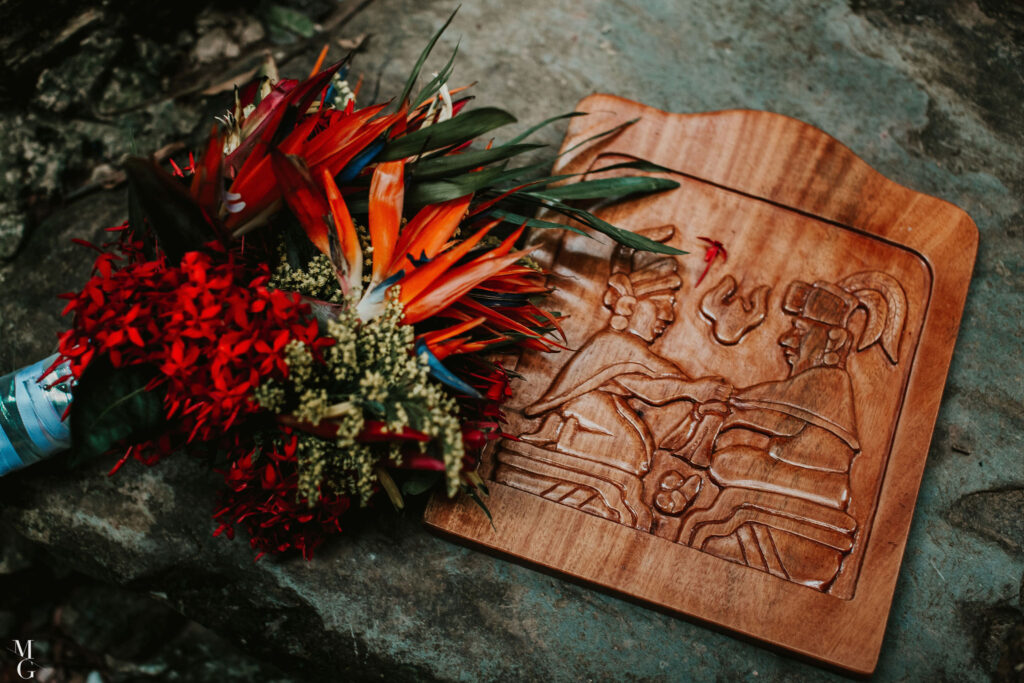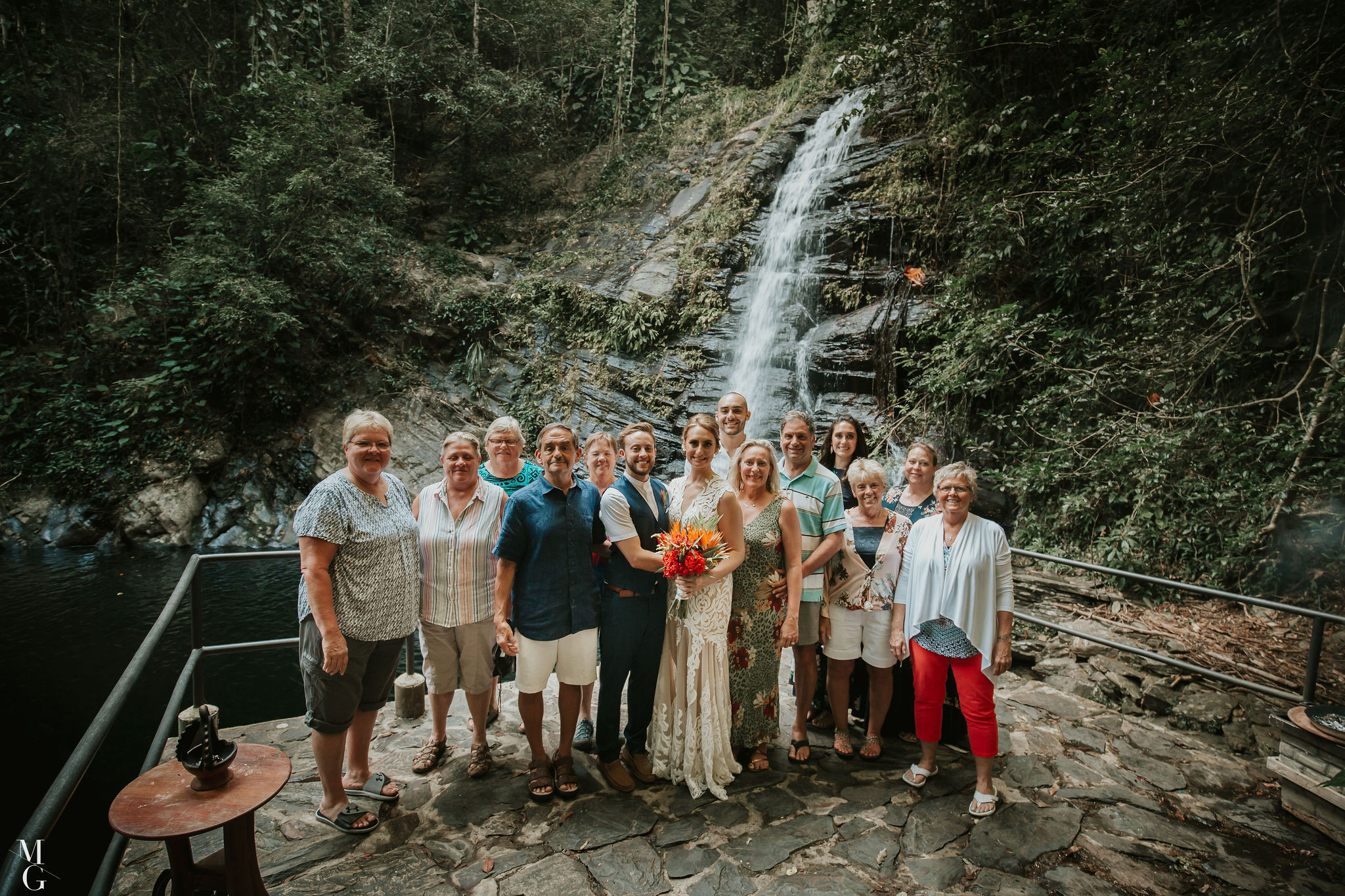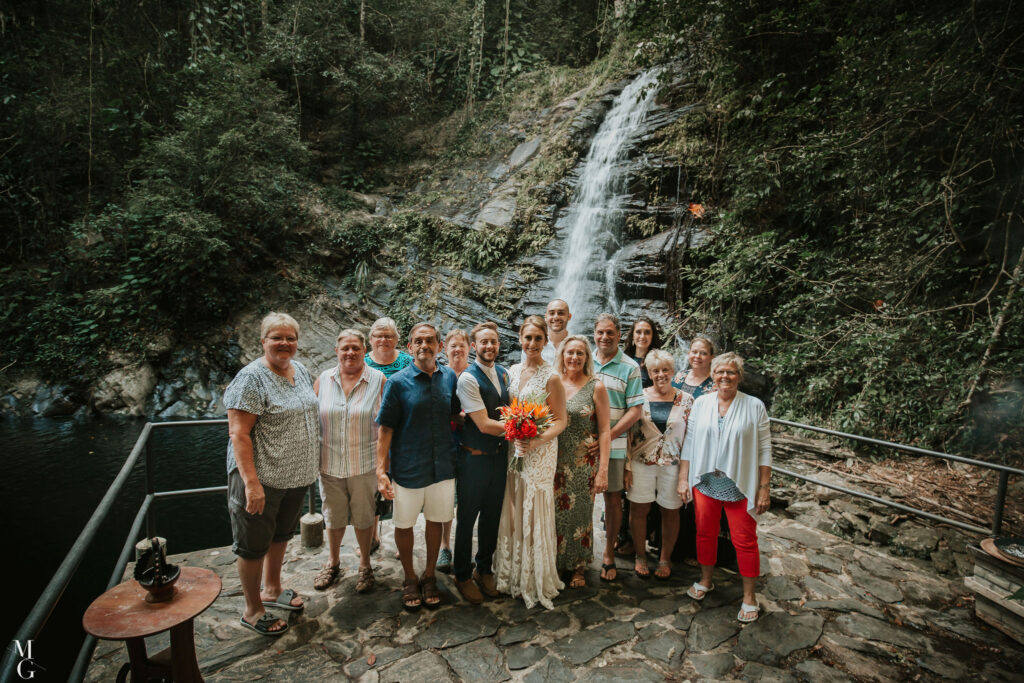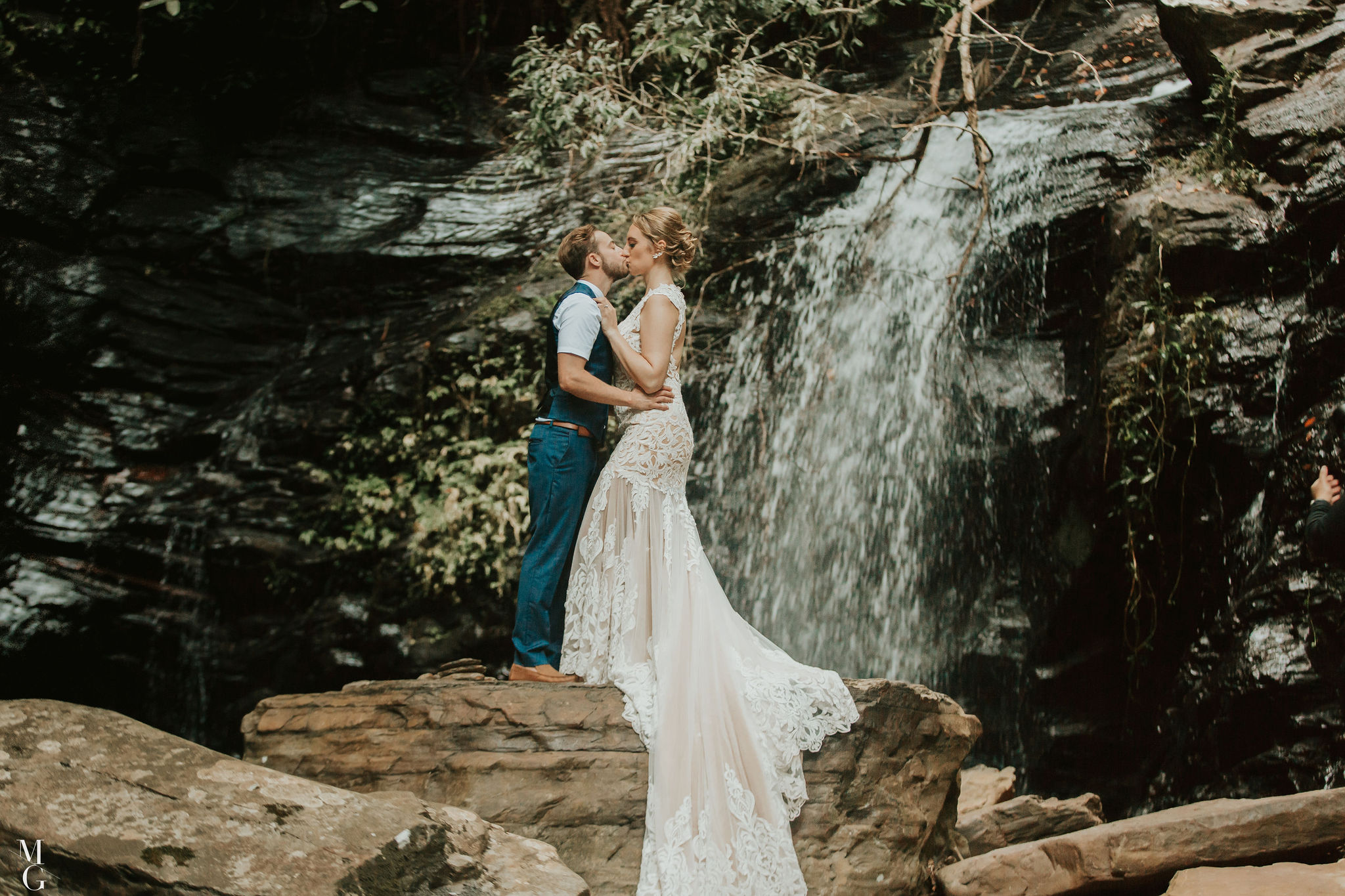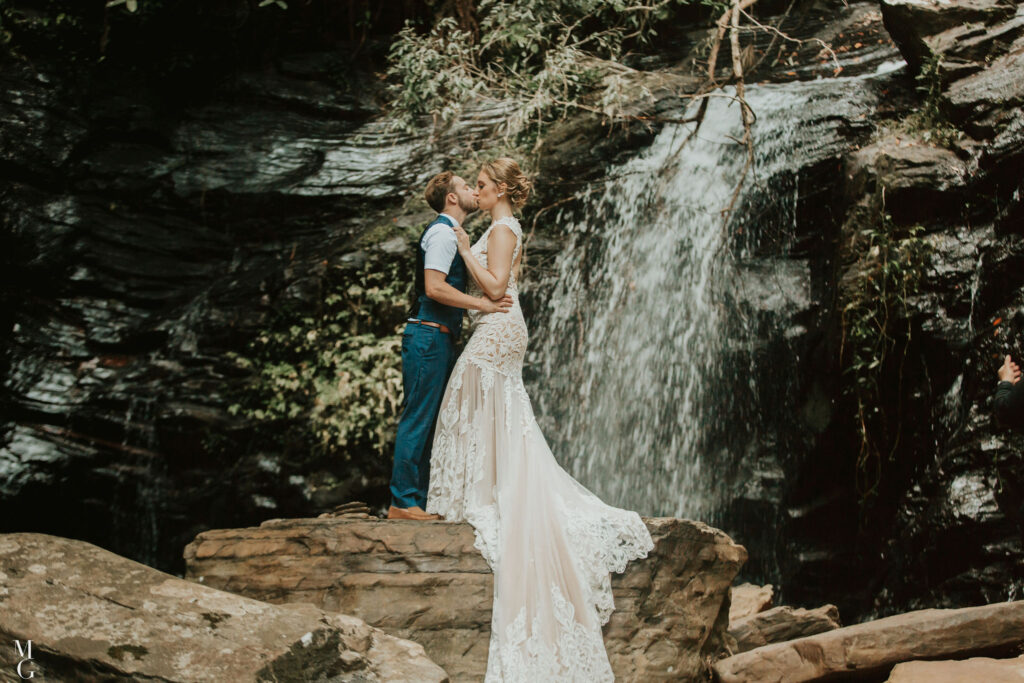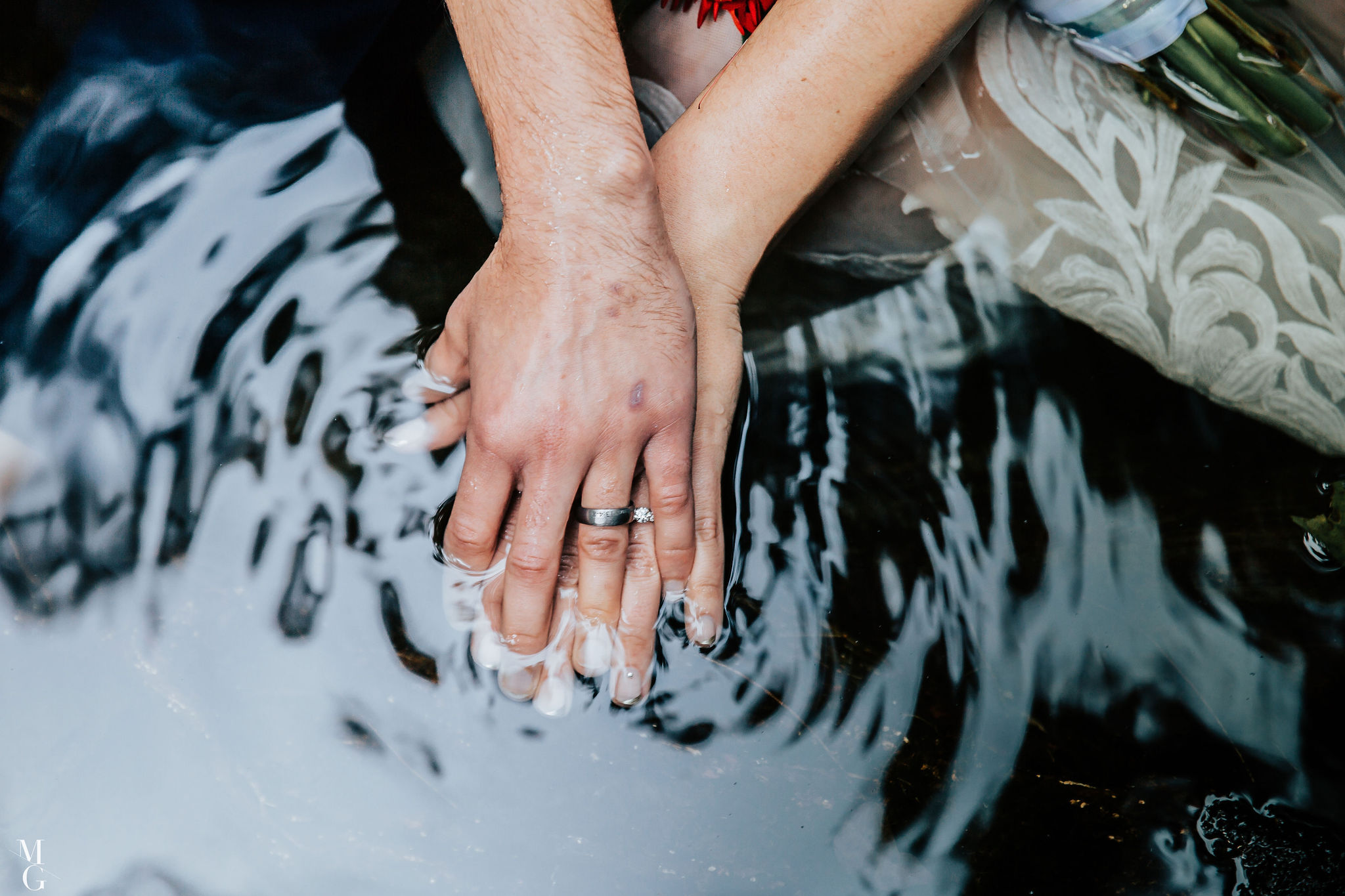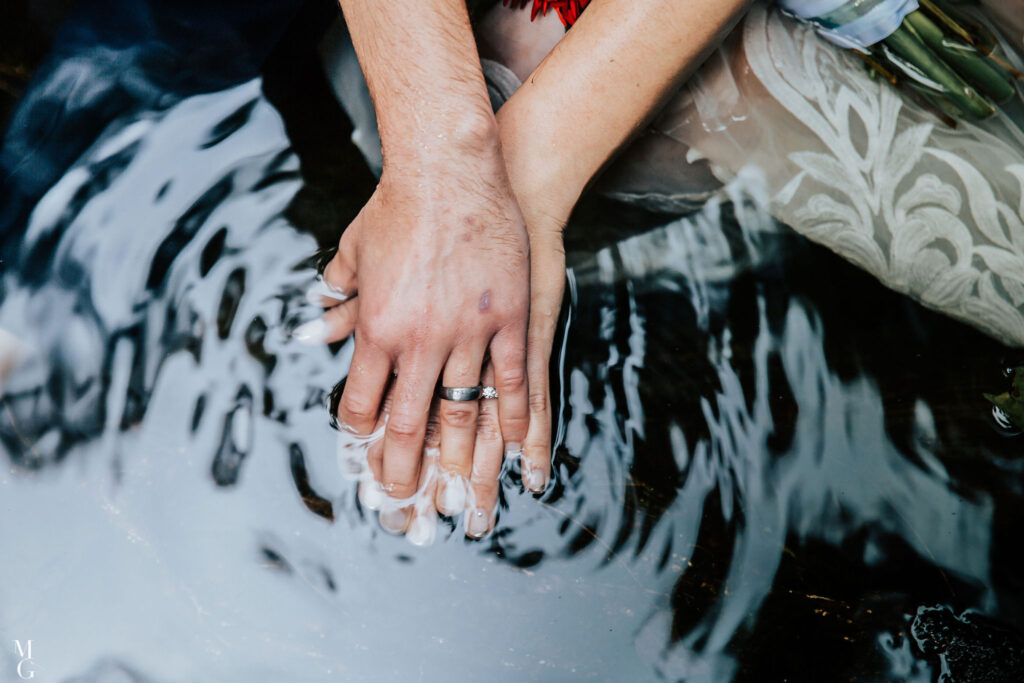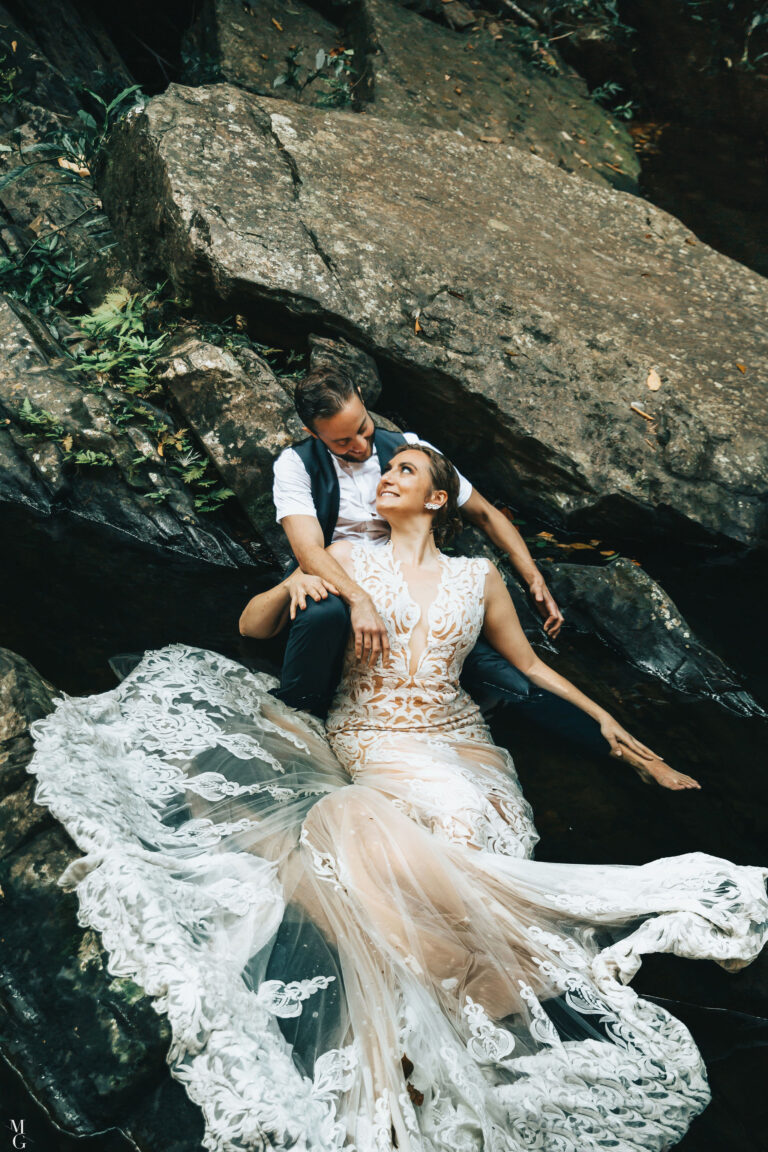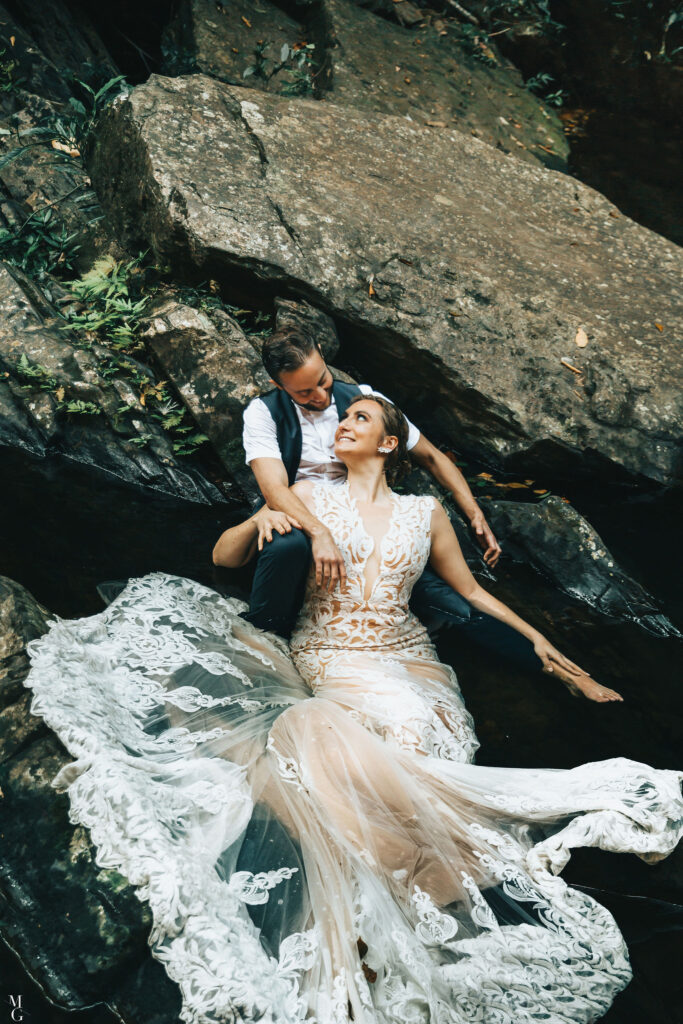 Sarah and Stephan were able to enjoy the best of both worlds and also had the opportunity to have another photo session on the charming beaches of Hopkins, so many cute rustic backdrops for photo opts.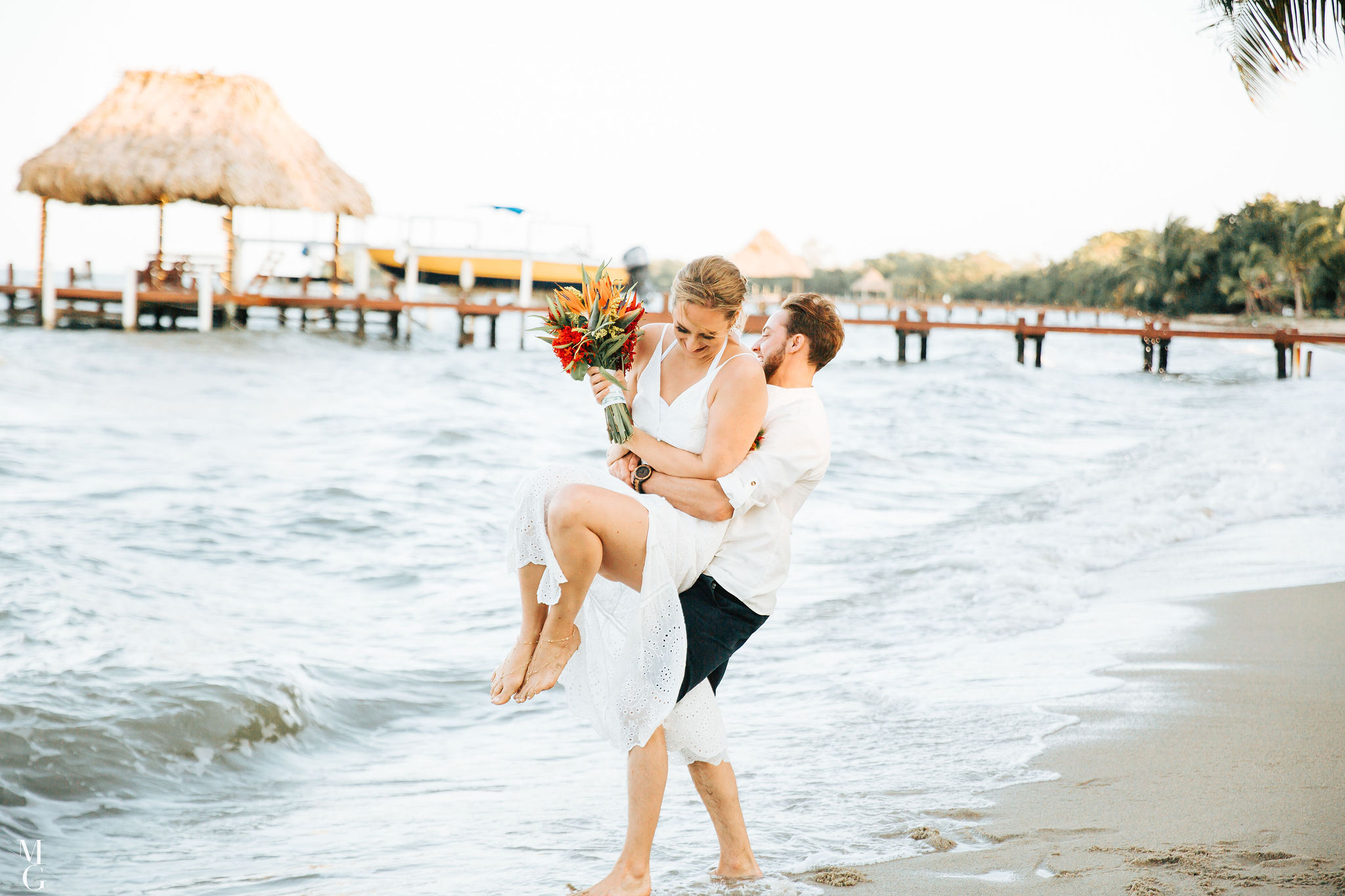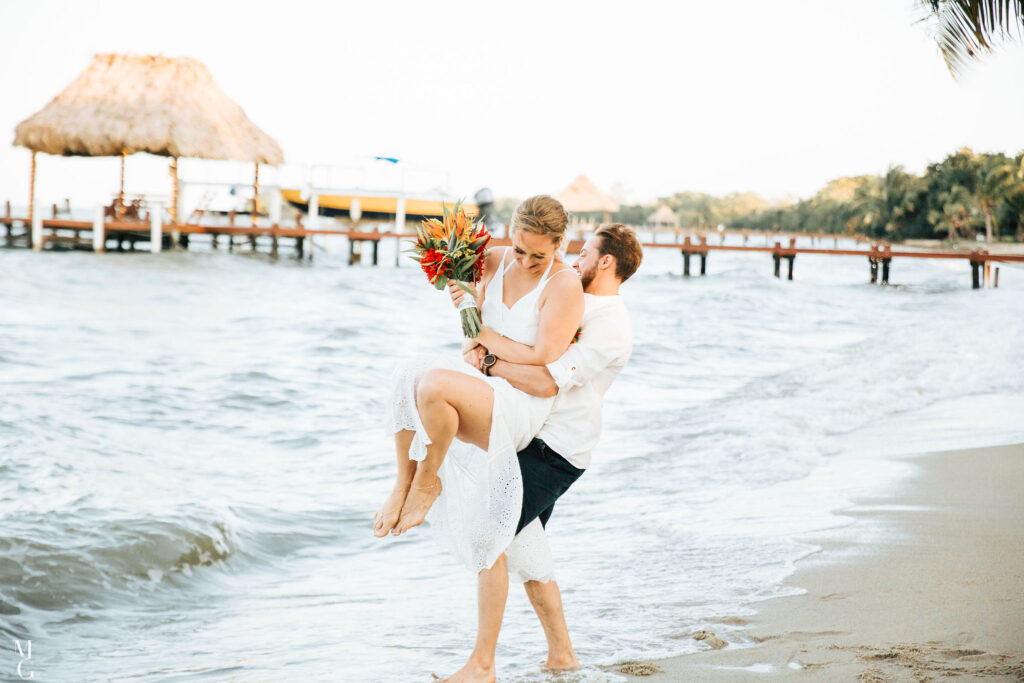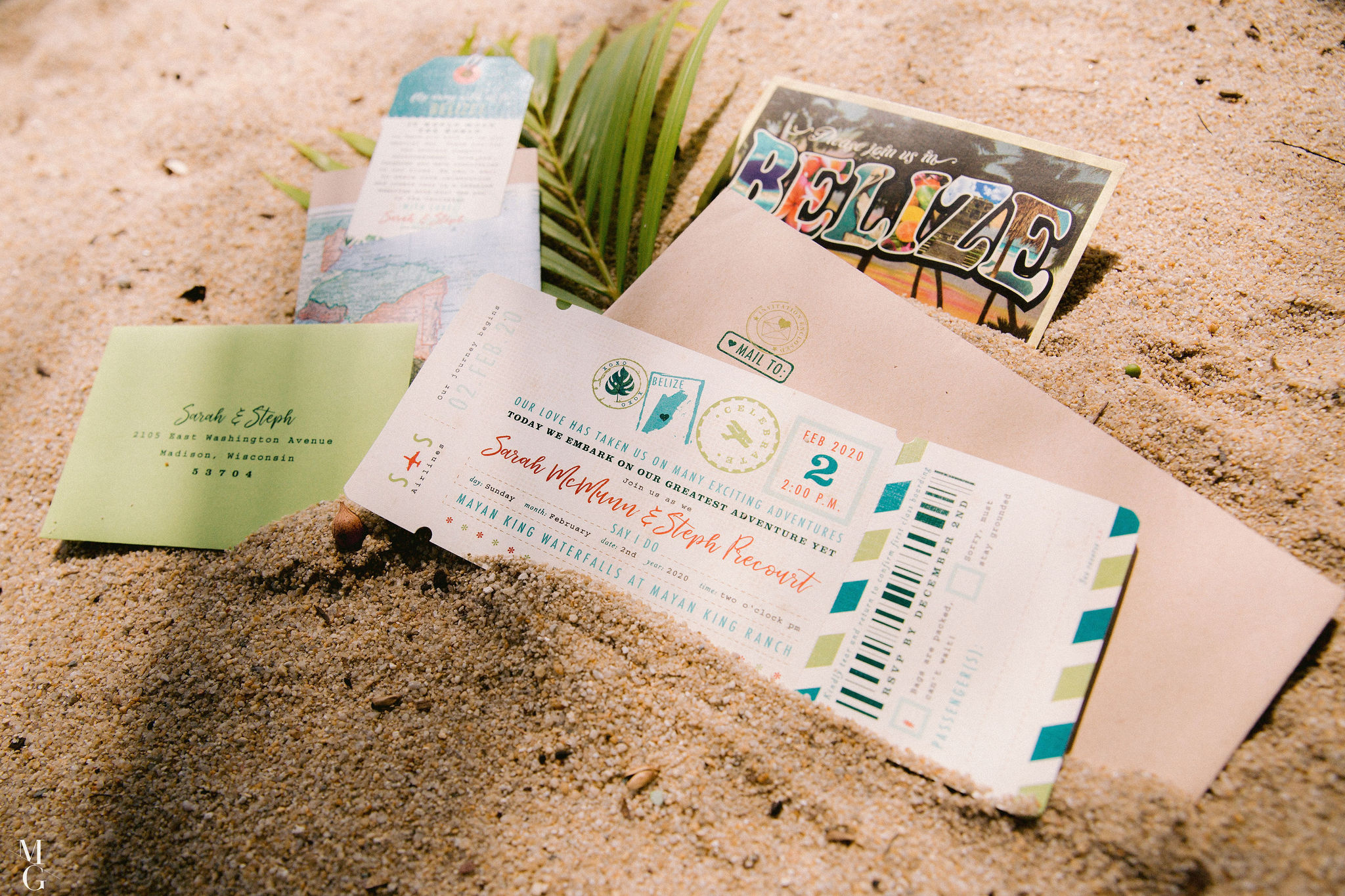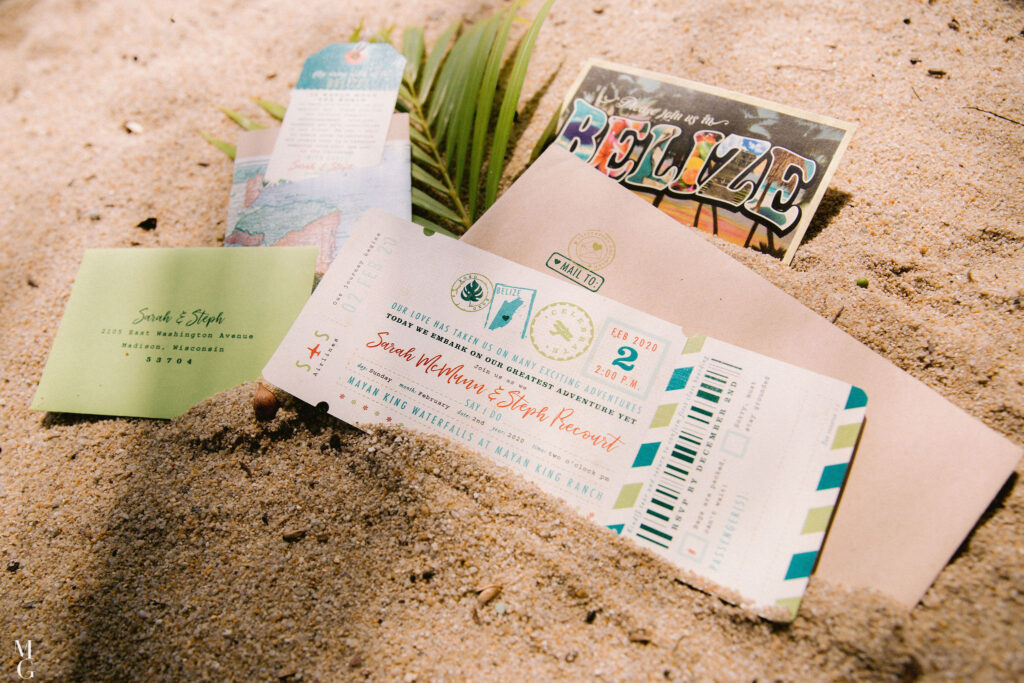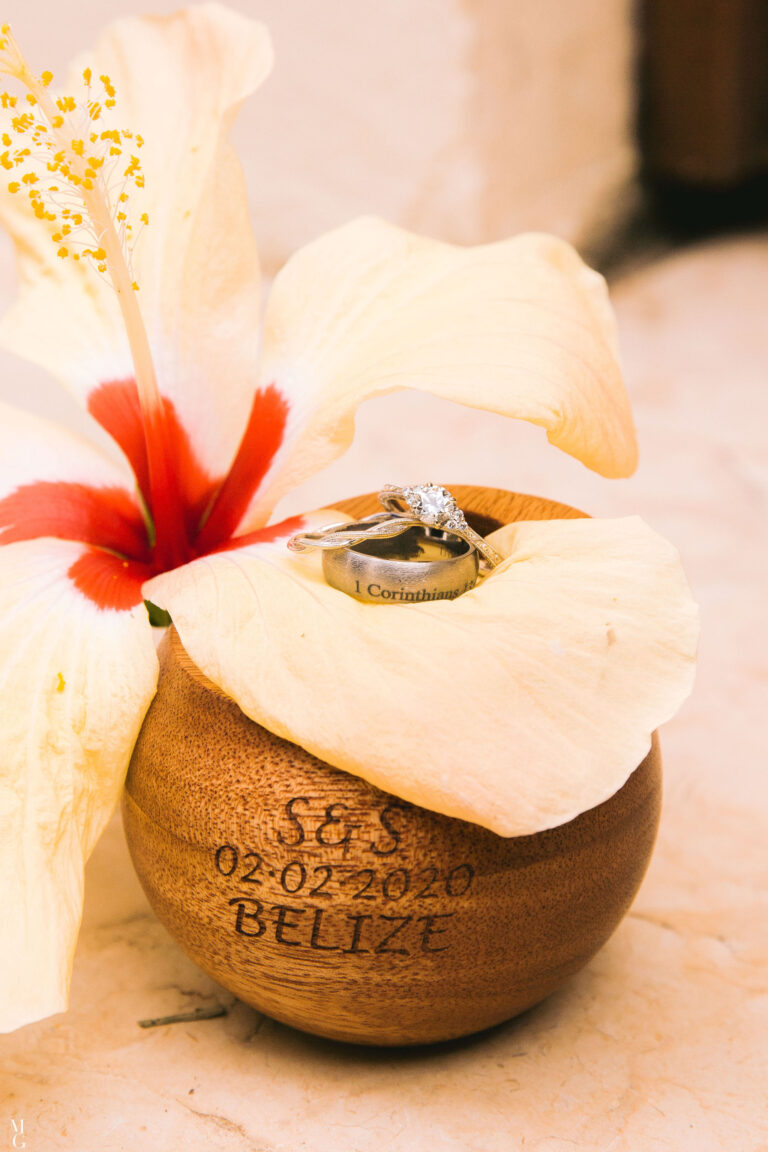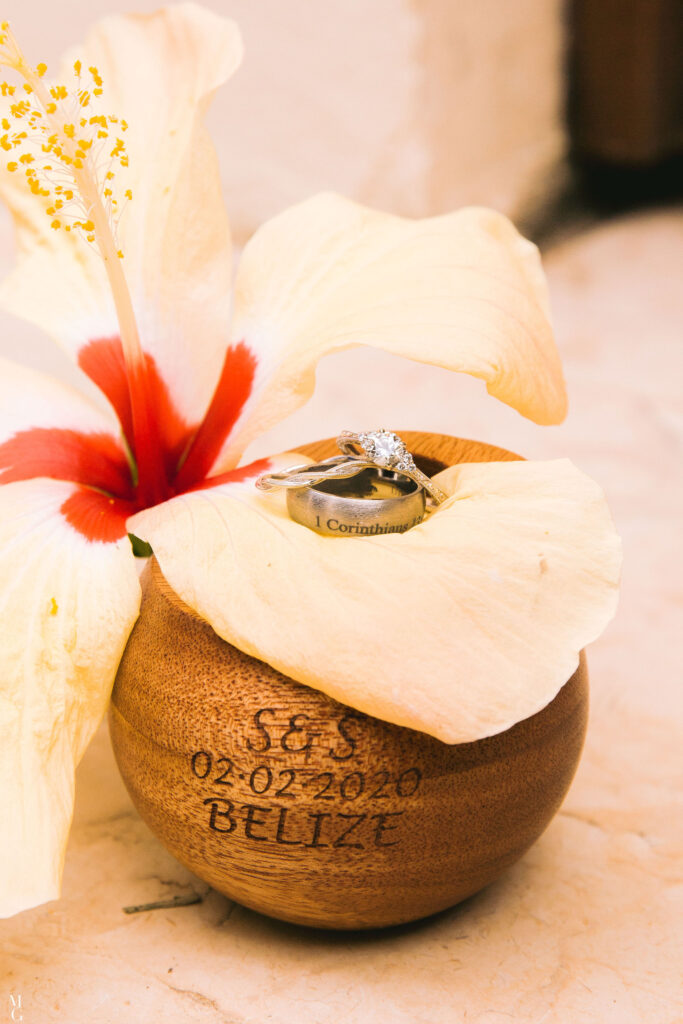 The Guest all headed to the reception dinner that we had planned for them. I had given the couple a few places to choose from for dinner and they really did their research and chose to go with Chef Robs Gourmet Cafe where they enjoyed a four course meal, with delicious options like: lobster Bisque, Curry and Coconut Soup, Catch of the day served with tomato and basil marmalade, green rice and roasted vegetables, red roasted pork tenderloin with balsamic and coconut sauce, mashed sweet potatoes and roasted vegetables. breaded chicken parmesan with vegetable ratatouille and for desert Classic Chocolate Moose and Lemon Cheese cake!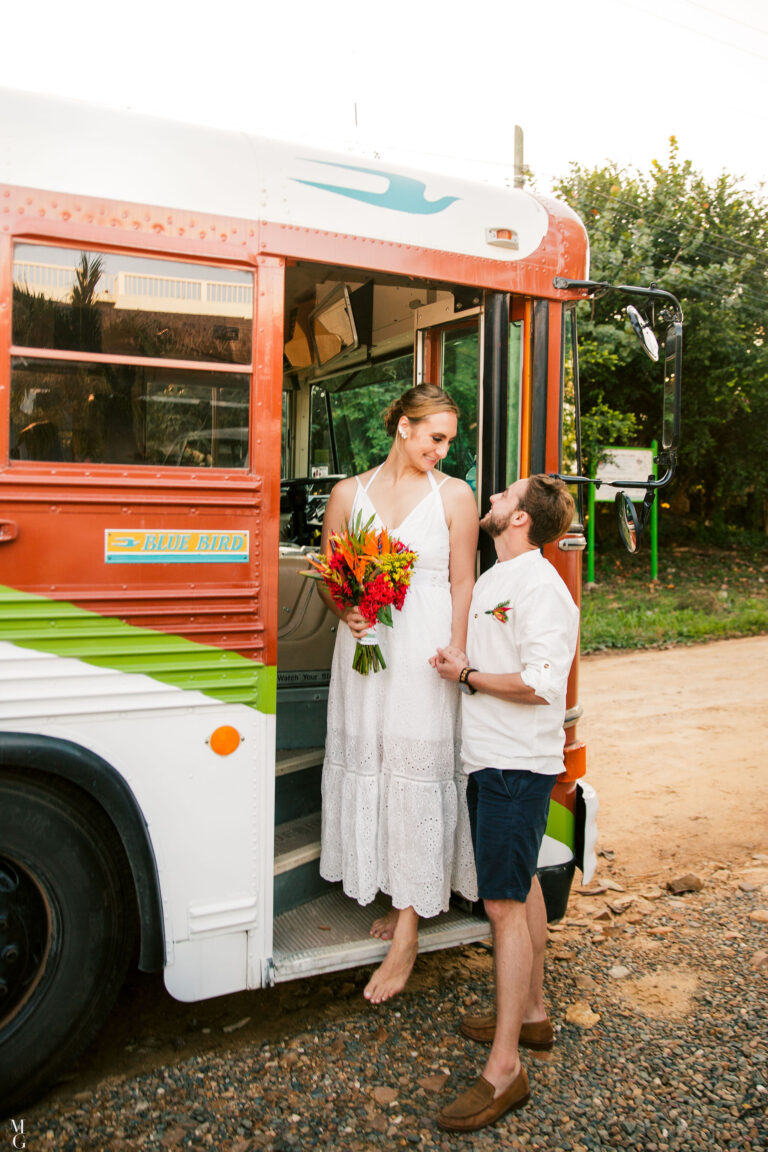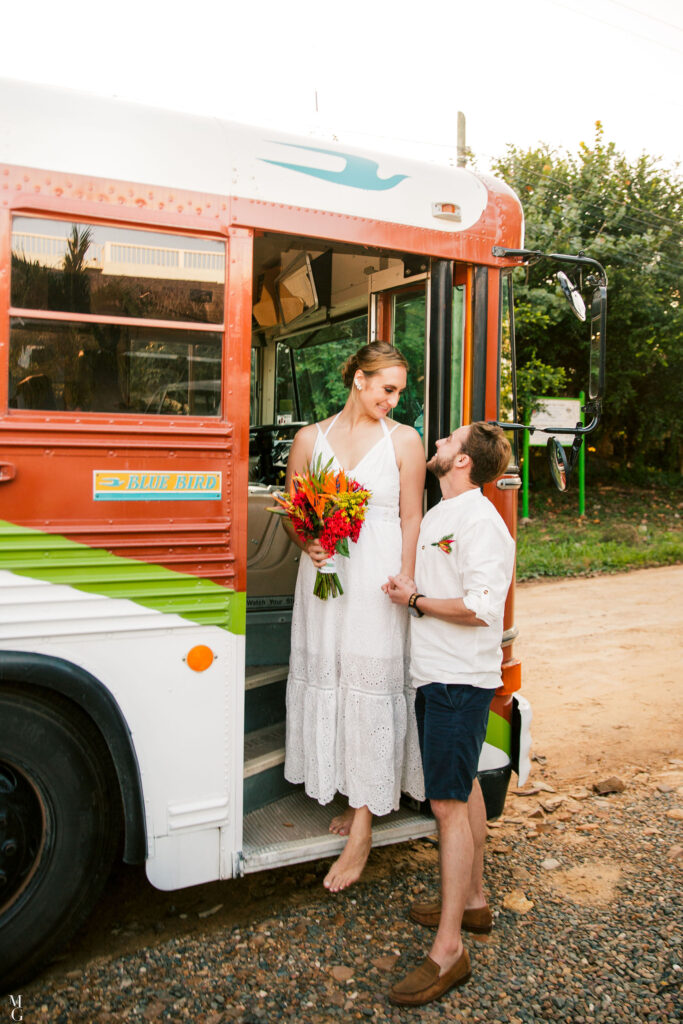 The day didn't end there! The wedding team said their farewells and we started heading back to our destinations. The Wedding Party walked along the beach as the sunset back to Jaguar Reef where they enjoyed a nice bonfire and drinks for the rest of the evening. All in all it was truly Sara and Stephans dream wedding come true.
Note from Sarah and Stephan about Dulce Belize Weddings:
We threw Melody some curveball requests for our wedding and she never batted an eye. We wanted a waterfall wedding, with a Mayan Shaman, a very specific bus for transport, local dinner and a small beach bonfire with dessert. While we did a lot of our own research on the front end, it was crucial to have someone local, who knew the culture/vibe, had connections and was able to manage our expectations based on their personal knowledge and experience. For example, some vendors are awesome but not super responsive. Or, my wife wanted to pick local flowers for her bouquet. Melody tracked down vendors who weren't responding to my emails, and while she supported the local flowers idea, she let us know that some local flowers will droop over in like 30 minutes of picking them and that's not a good look for a bouquet. Little stuff like that makes a huge difference and she knows all of it.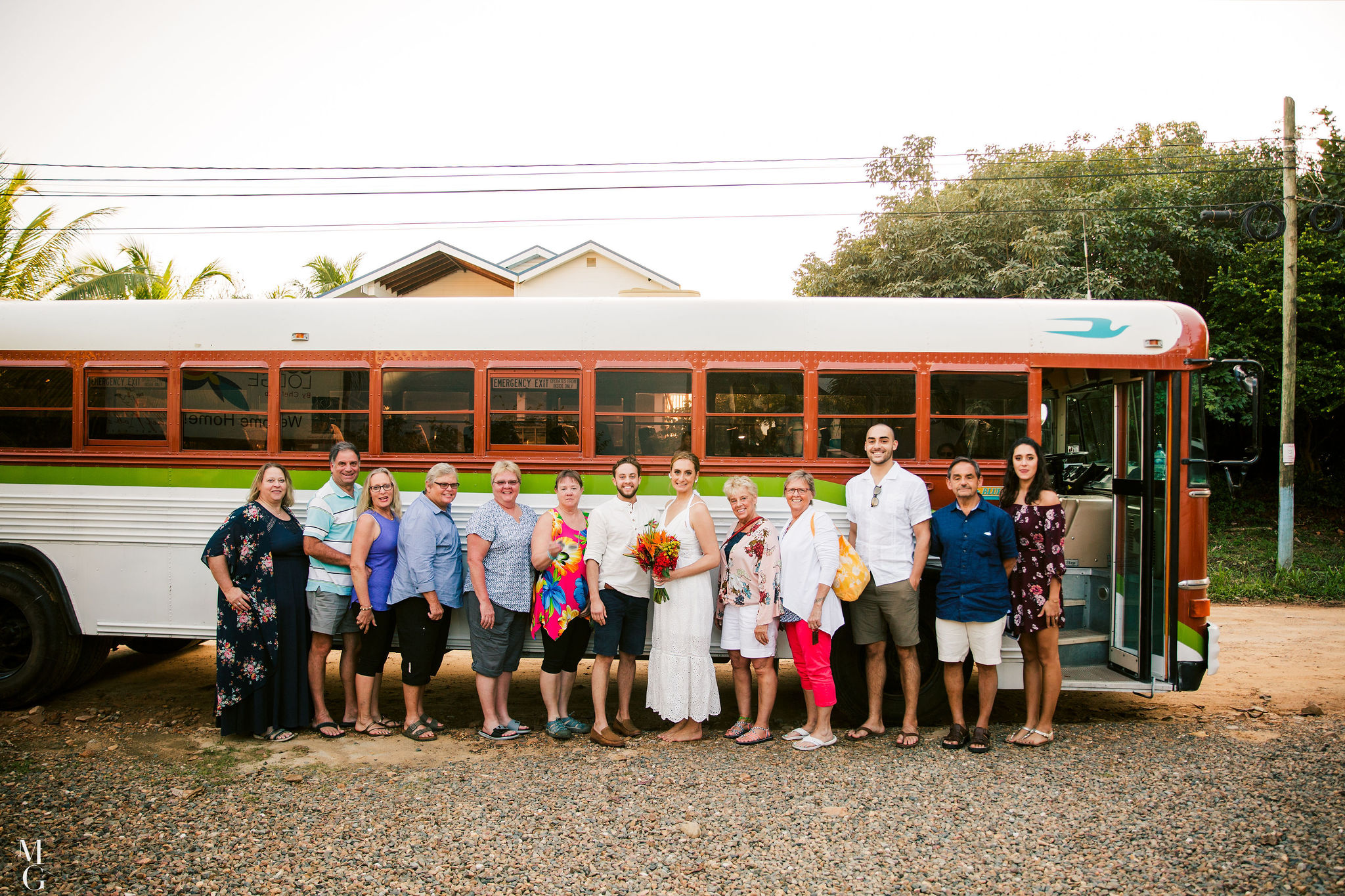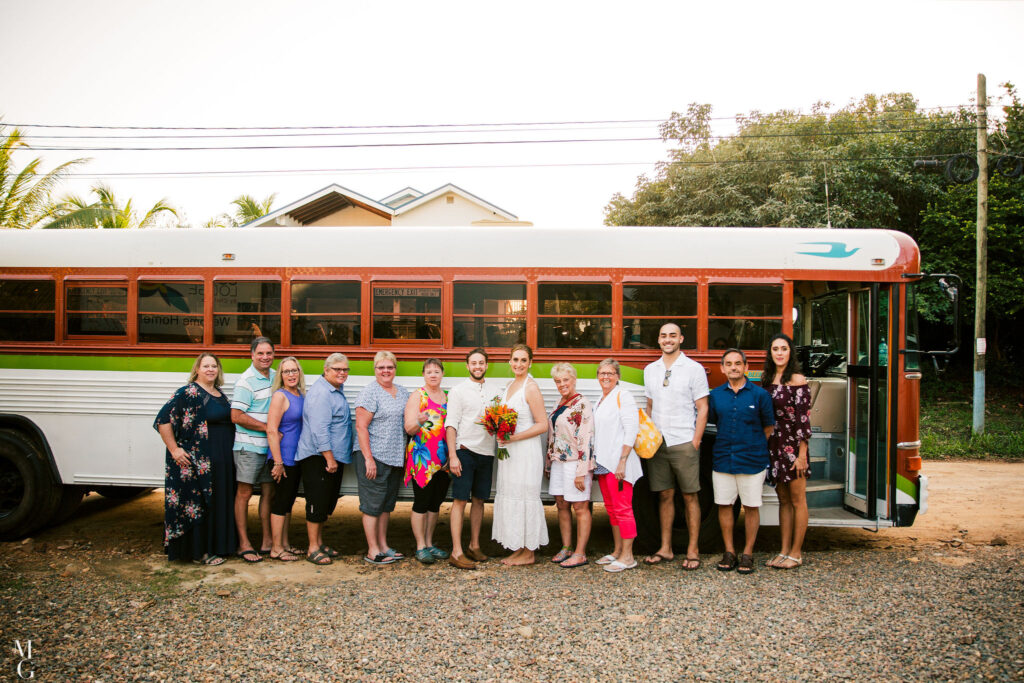 On the day of the wedding, Melody was on super on top of everything, managing time, people and vendors promptly and elegantly. Despite never having been to the waterfall, as soon as we arrived, she jumped off the bus and got to work situating and organizing things and people and making sure our hopes and dreams for the ceremony were met. (Note, I think she usually does site visits, but the waterfall was very far from where she's based, so we opted to not send her out there for a site visit).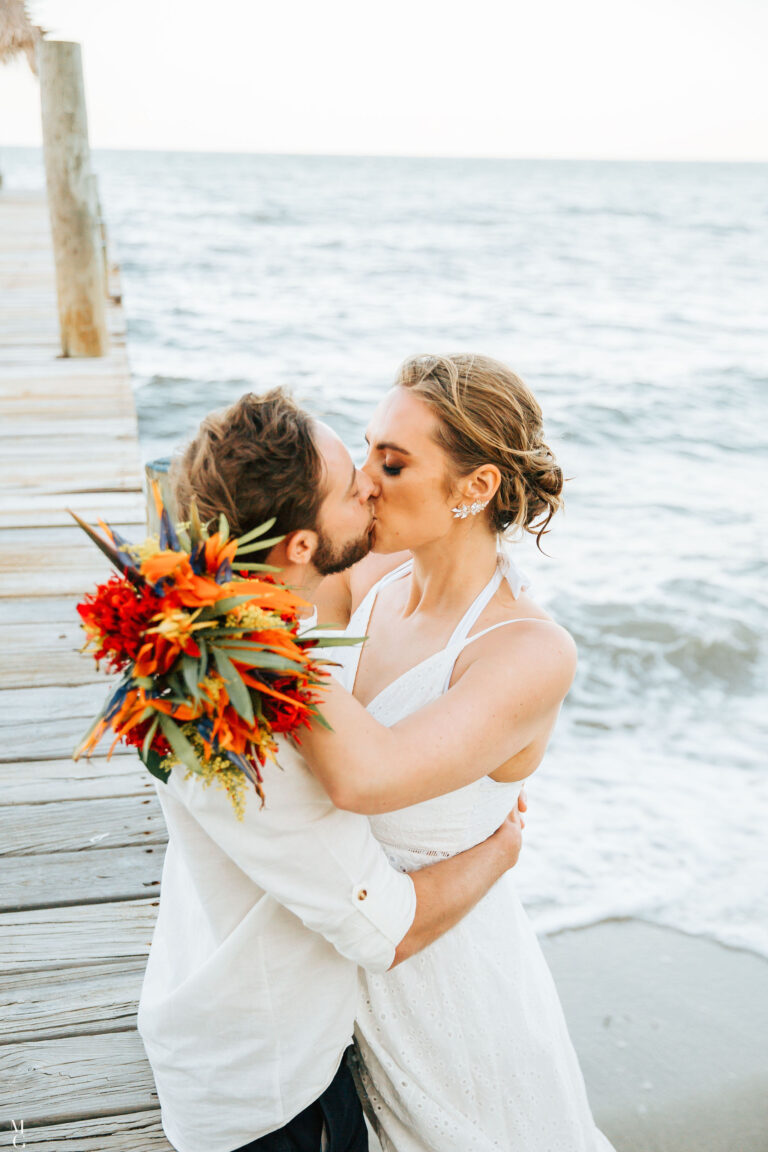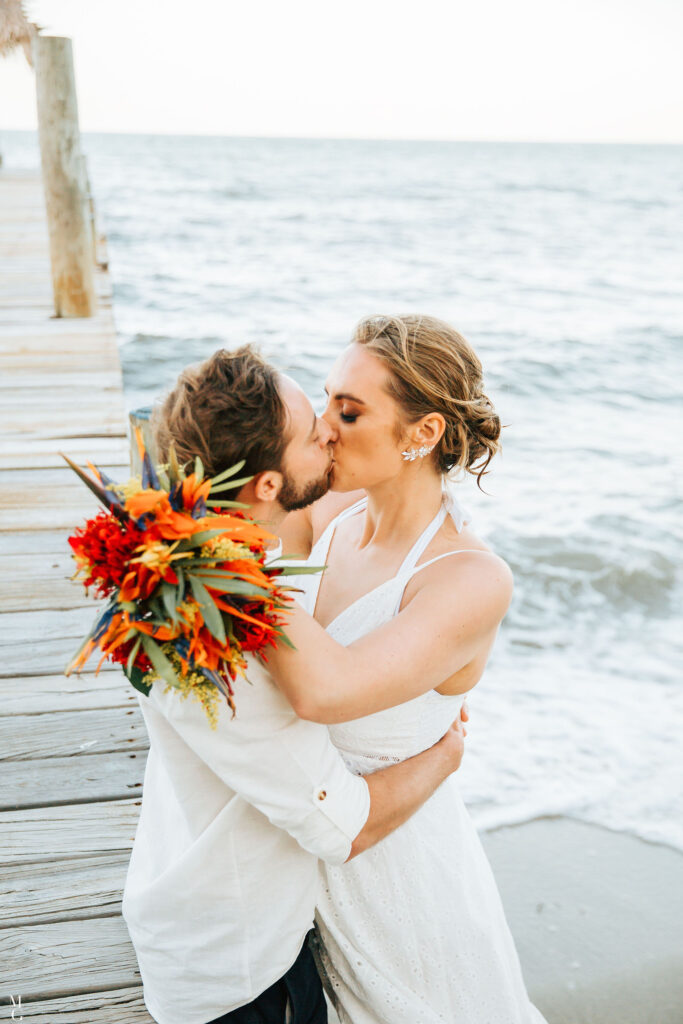 We LOVED all of our vendors, all of which came from her connections. She's worked with people, she knows who's good for what you need. Like, my wife doesn't wear much makeup and didn't want an overwhelming amount of makeup for the big day-Melody knew just the makeup artist to go to for that (my wife loved what she did and she looked beautiful). Overall, I just felt at ease because I knew, no matter what was thrown her way, Melody could deal with it and make it work out. She was told the bus we wanted wasn't available ON the day of the wedding, but she wasn't having it and finagled something so it was a very similar or the same bus, I can't remember. Having the peace of mind that she could work magic and could handle anything, was everything. And she gave us an incredibly reasonable price-we got more than what we paid for.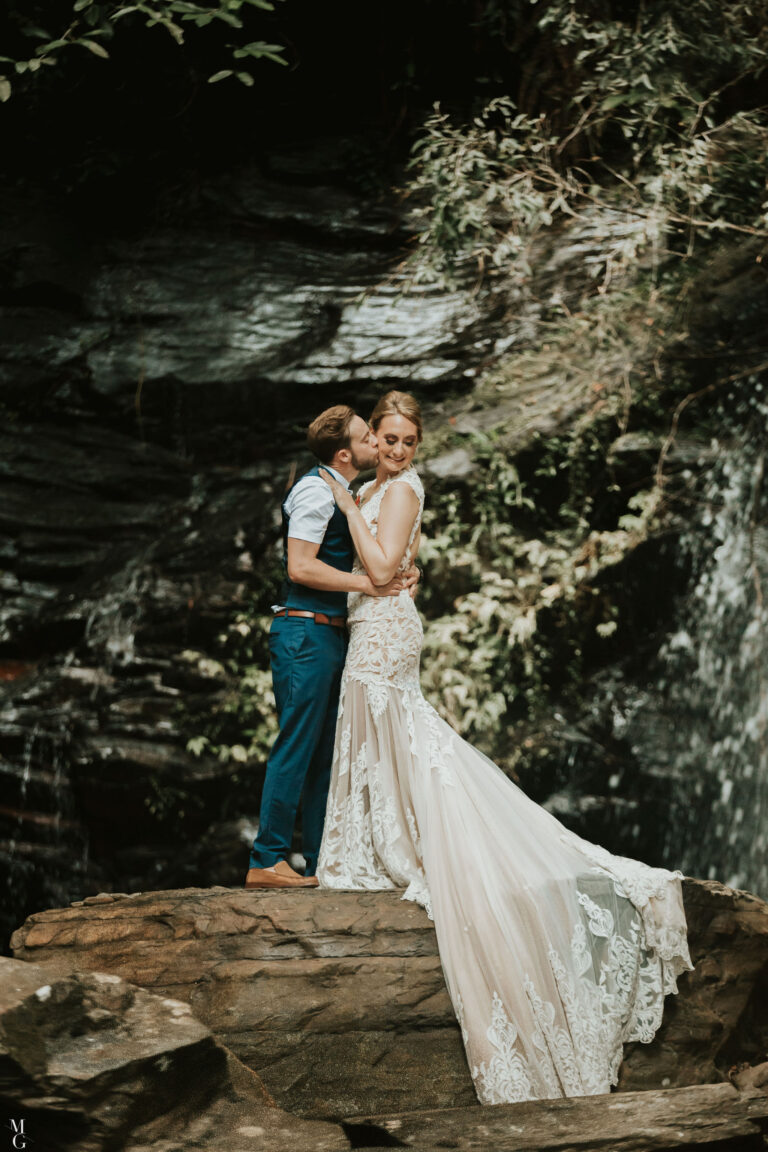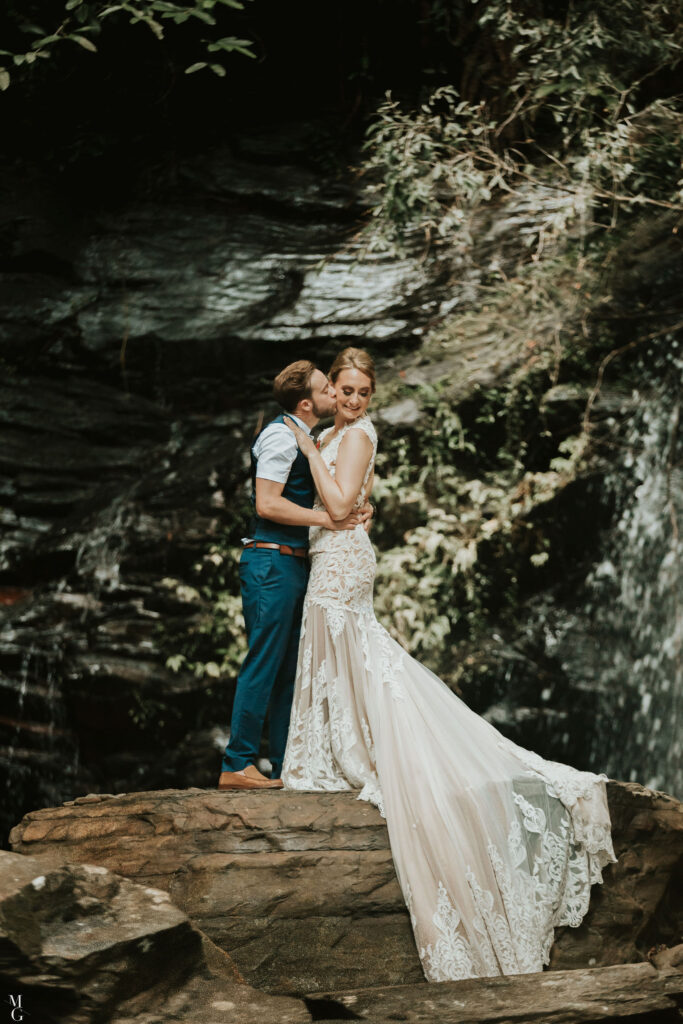 Well there you have it! This was my first experience planning a waterfall wedding and I am truly hoping to book 10 more soon! That slogan wedding wire uses "I love weddings like it's my job" could not be any truer about me! I truly do love everything about weddings and please don't hesitate to ask me for something out of the ordinary, I love challenges and adventures! So if you are thinking of coming to Belize to exchange your wedding vows on a Mayan ruin, Sandbar, Waterfall or wherever your heart desires I would be more than honored to help make planning your destination wedding in Belize as easy as possible!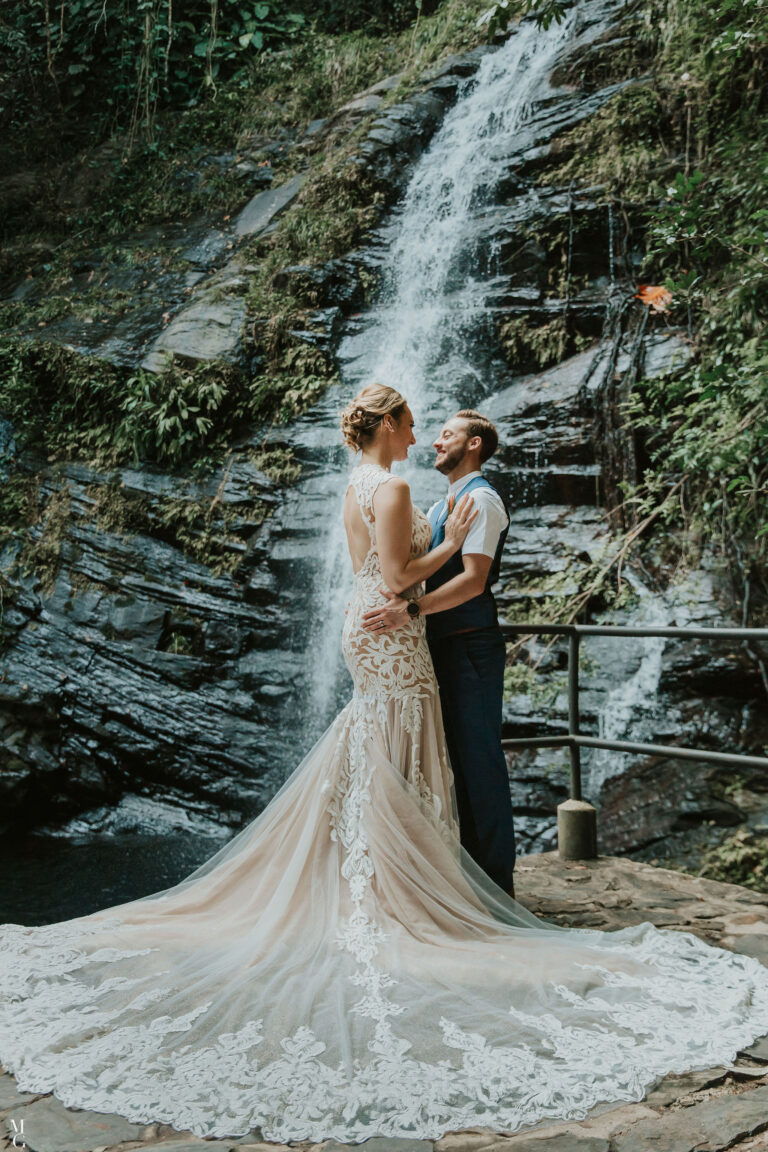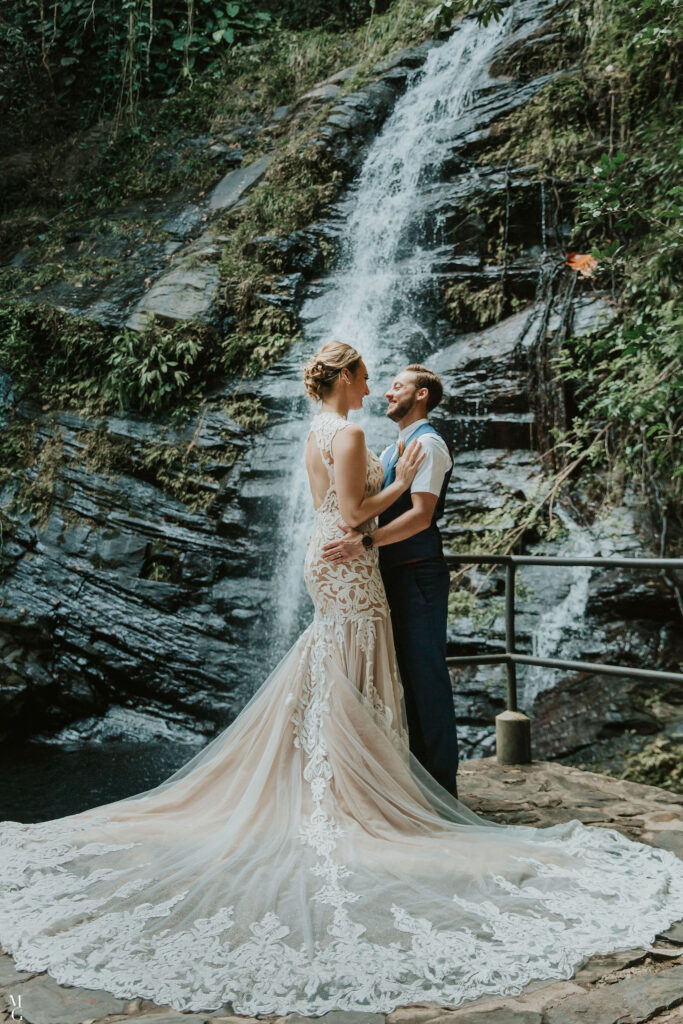 Written by: Melody Head Coordinator at Dulce Belize Weddings.
Wedding day Team
Photography by: Monica Gallardo
Stylist: Make-up by Steph
Wedding Planner: Melody Sanchez Wolfe
Venue: Jaguar Reef Resort/Maya King Falls