About San Pedro Town - Ambergris Caye
Ambergris Caye is Belize's largest island. Ambergris is 35 miles east of Belize City and about 0.75 mile west of the Belize Barrier Reef. The island was formed by an accumulation of coral fragments and silt from the Río Hondo as it emptied from what is now northern Belize. The Caye is made up of beautiful sand beaches, tall swaying palm trees, incredible mangrove swamps that house a variety of wildlife, a dozen lagoons, of course the world's second largest barrier reef with awe-inspiring marine life, and the buzzing of golf carts whipping by all day long, making this a must see location!

San Pedro is a town on the southern part of the island of Ambergris Caye, Belize, Central America. According to the 2015 mid-year estimates, the town has a population of about 16,444.  San Pedro's inhabitants are known as San Pedranos and most of them originally came from Mexico. Most speak both Spanish and English fluently.
One of the most common questions we receive about Belize, other than what there is to do here, is "How do I get to Ambergris Caye from the International Airport?"  Look no further read below to learn more! The Philip Goldson International Airport (PGIA), airport code BZE, is located in Belize City on the mainland of Belize.  To get to Ambergris Caye, you need to arrange for local transportation to the island.  There are two options for this, both with their pros and cons.  Take a look below as we break it down for you.
Domestic Flights in Belize
The island's only airstrip is located in the heart of San Pedro Town and there are currently two companies that offer domestic flights within Belize: Tropic Air & Maya Island Air, both operating out of the PGIA.
The travel time from the PGIA to San Pedro is approximately 30 – 45 minutes. Round Trip starts at approximately USD 150. Also please note that these domestic flights are done by small aircraft, leaving little room to move around. 
————- T I P S —————
Check carefully with Tropic Air or Maya Island Air for your recommended time between connecting flights, especially if you are connecting to an international flight. 

Have your camera handy! The views of the Caribbean Sea are Breathtaking as you fly over to the Cayes. 

Typically there is no assigned seating on these small planes. You may ask to sit in the co-pilot seat (if available) and experience the fabulous views.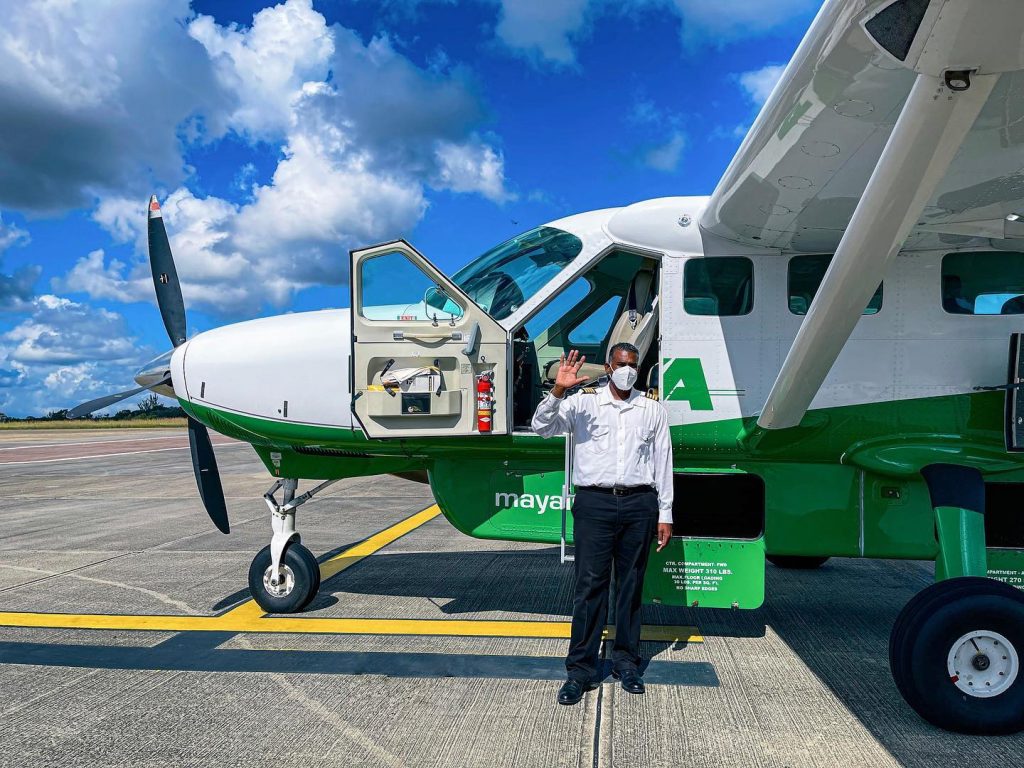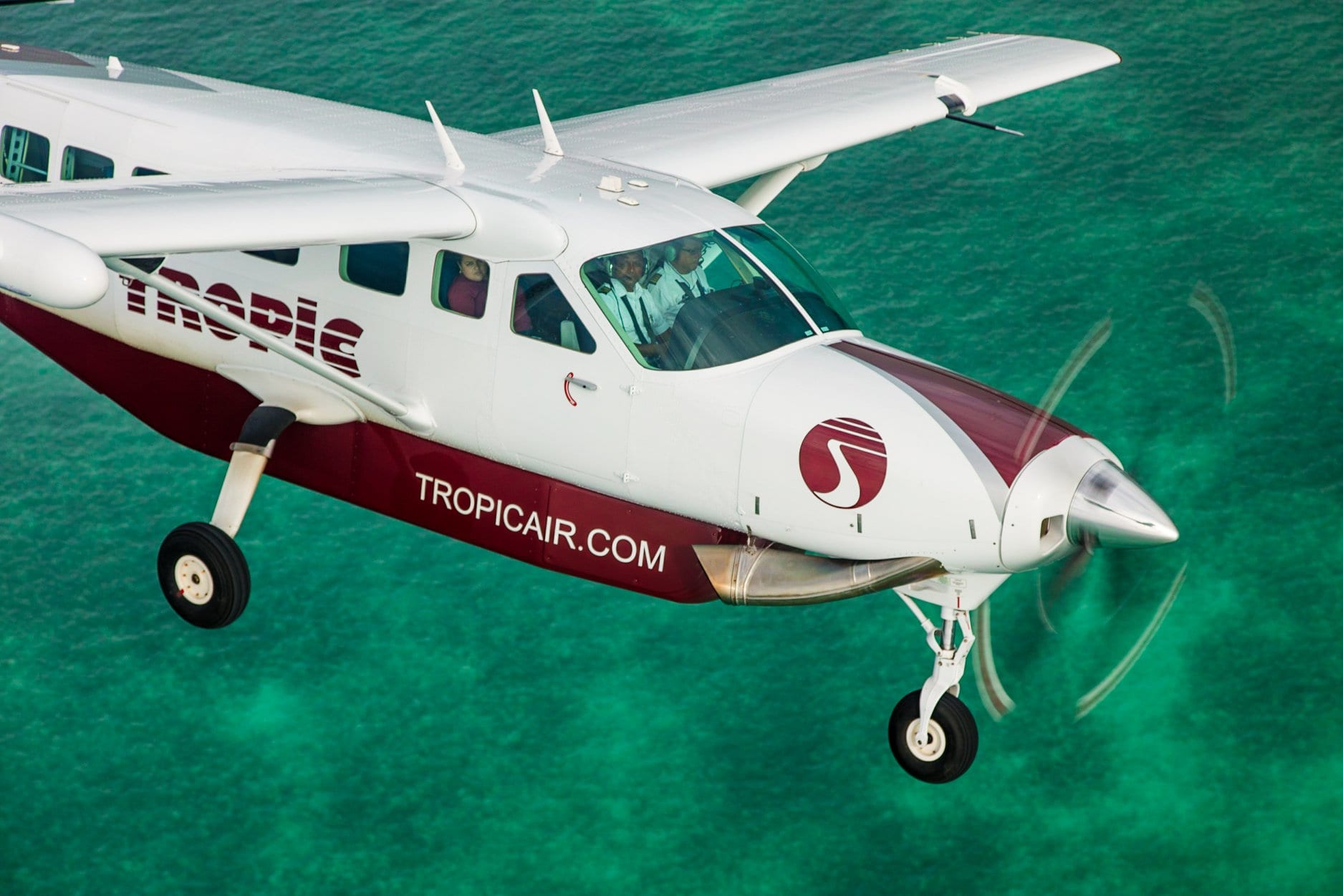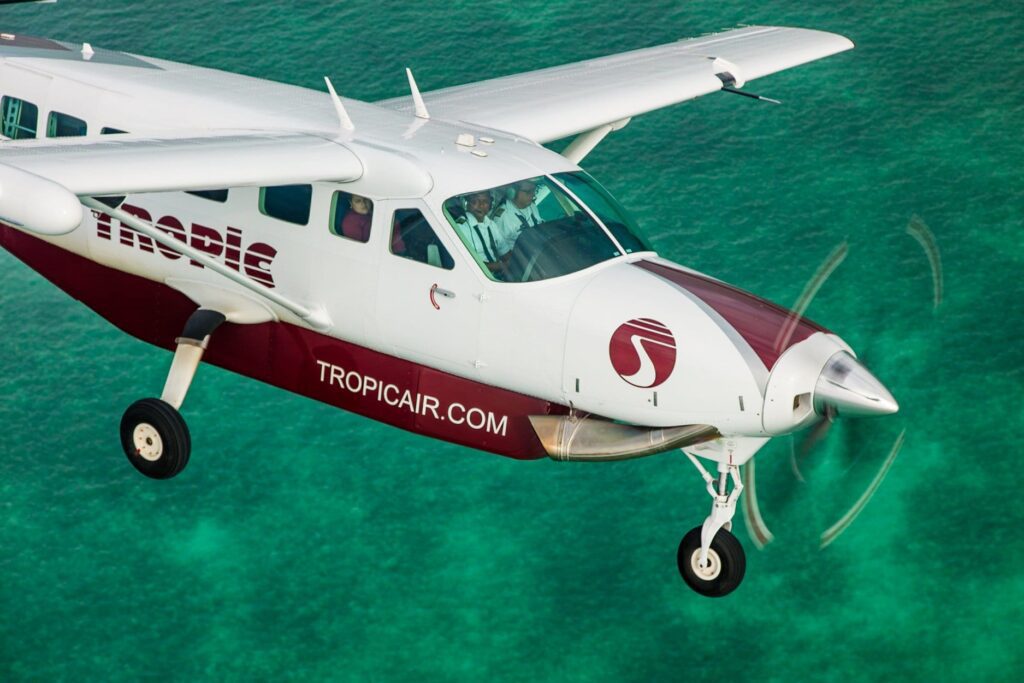 There are two ferry companies located in Belize City that offer daily service to Ambergris Caye: The San Pedro Belize Express &  Caribbean Sprinter. Both water taxis are within a couple of blocks of each other and offer regular daily runs to and from San Pedro & Caye Caulker. 
A valid I.D., such as a passport, is required when purchasing water taxi tickets and when boarding the vessel. Round-trip tickets are cost-effective, the price starts at $60 USD. As the boat pulls away from Belize City, you get a great vantage of the shoreline, which slowly blends into every colour of blue you can imagine as you get further out on the sea. 
However, it is a long travel time, the boat ride is approximately 90 minutes but you must also factor in travel time from the PGIA via taxi to the water taxi dock in Belize city, which is about 25 minutes. Moreover, boats are often filled near capacity, which leaves little personal space. 
———– TIPS ———–
There are typically no assigned seating onboard vessels.

Life jackets are provided

Sit back and enjoy the boat ride to San Pedro, Ambergris Caye.