WELCOME TO AMBERGRIS CAYE:
Ambergris Caye is the largest Caye you can find on the coastline of Belize. It is located in the clear shallow waters of the Caribbean Sea just off the tip of Mexico's Yucatan Peninsula. Its coastline is protected by the second largest Barrier Reef which is only about a half mile off the coast of Ambergris Caye. 
At the heart of Ambergris Caye, you will find the bustling town of San Pedro. The locals are referred to as "San Pedranos". They are known as one of the most significant fishing communities in Belize. We are a democratic, English-speaking nation, once known as British Honduras. The weather is mild, the beaches are beautiful, and the history is rich, this is a land of swaying palm trees and colourful sunsets.
The main modes of transportation on the island are typically by either golf cart or bicycle, but unlike its neighbour Caye Caulker which has no cars at all, there are some cars and taxis on Ambergris Caye. Many resorts, hotels, and vacation rentals provide access to free bicycles so you can easily get around town. But if you want to explore more of the island or head over to the highly recommended Secret Beach, I would suggest renting a golf cart, which usually costs $25 – 50 USD daily. That being said, it doesn't hurt to try to barter with them and get a better deal, like weekly discounts.
The wide variety of things to do in San Pedro Town makes Ambergris Caye the gateway to travel in this beautiful country. Please Read Below for the Top 10 Things You Must Do when visiting San Pedro, Ambergris Caye!
SNORKEL OR DIVE AT HOL CHAN MARINE RESERVE.
   As translated in Maya as "Little Channel," the Hol Chan Marine Reserve refers to the deep cut or "quebrada" in the barrier reef off Ambergris Caye. This protected zone encompasses a total of 13,632 acres of marine waters, which includes four (4) zones: Coral Reef, Sea Grass Beds, Mangroves & Shark Ray Alley.
   Located approximately four (4) miles south of San Pedro, Ambergris Caye, this top snorkelling zone is Belize's first marine reserve legislated in July 1987. Its popularity has been primarily centred on the schools of friendly docile nurse sharks, Sting rays, and colourful fishes.
   This snorkeler haven is also home to a few endangered species of marine life, such as the Loggerhead Turtle, Green Turtle, Nassau Grouper, Star Coral, Staghorn Coral, and Elkhorn Coral.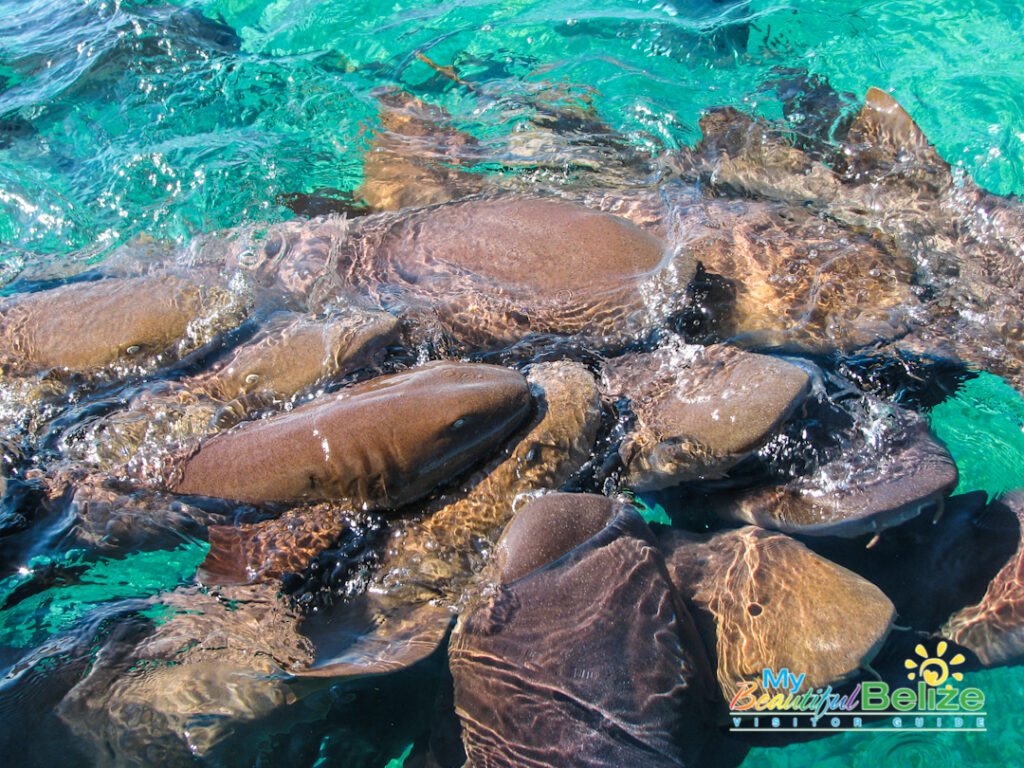 2. SAILING TO CAYE CAULKER: "Where the pace is as slow as the waves"
  Caye Caulker also affectionately known to the locals as "La Isla Cariñosa" is the second largest of the Belizean Cayes. The island is about 4 miles long, but the town is only about a mile long. Unlike the bustling town of San Pedro, Ambergris, Caye-Caulker is a tranquil island, and 'Go Slow' is the island's motto.
   Caye Caulker is famously known for The Split, which is located on the northern end of the town. Here is where most Full Day trips take their guests for lunch.
  They give you approximately an hour and a half to grab a bite and explore the island. Thereafter you will sail back to San Pedro while enjoying the sunset.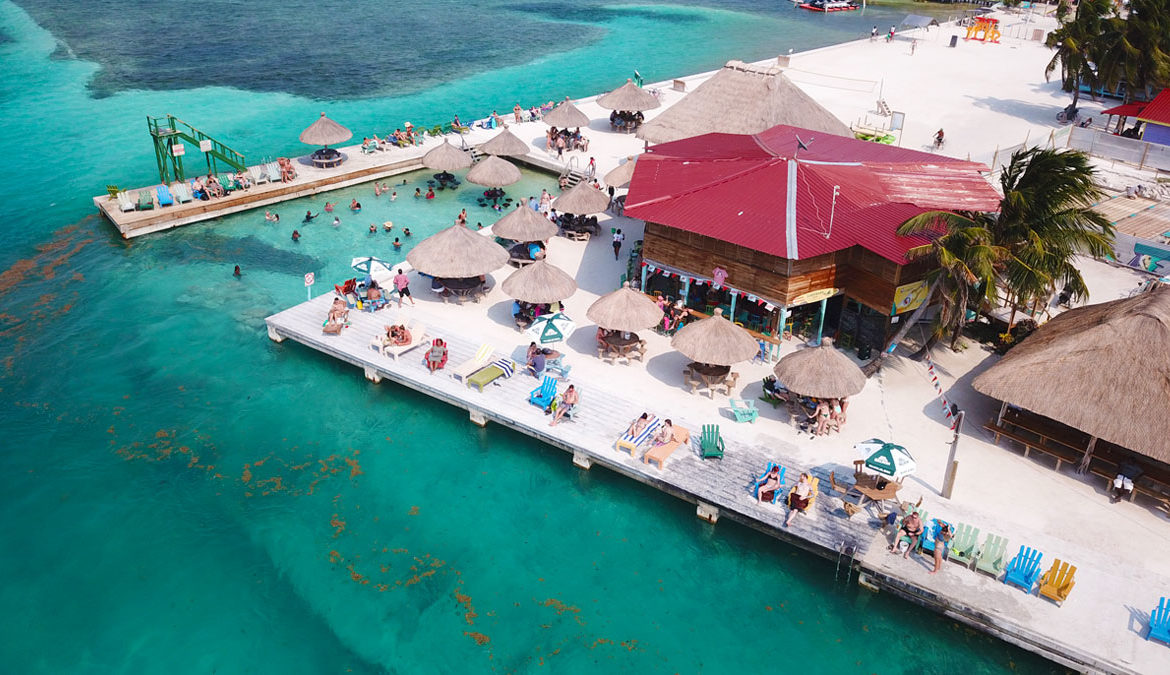 3. SNORKEL OR DIVE THE GREAT BLUE HOLE:
Belize has several great spots for scuba diving and snorkelling, but one of the best is the Great Blue Hole. People describe it as "one of the best-kept secrets in the Caribbean." This "hole" is located at the centre of the Lighthouse Reef, off the coast of Belize. It was created from the erosion of a limestone cave during the last ice age. The depth of this sinkhole is unknown because water shifts with the tides, but it is more than 300 meters deep—or 1/3 of a mile. The hole is basically in the shape of an ear canal, which makes for interesting photos.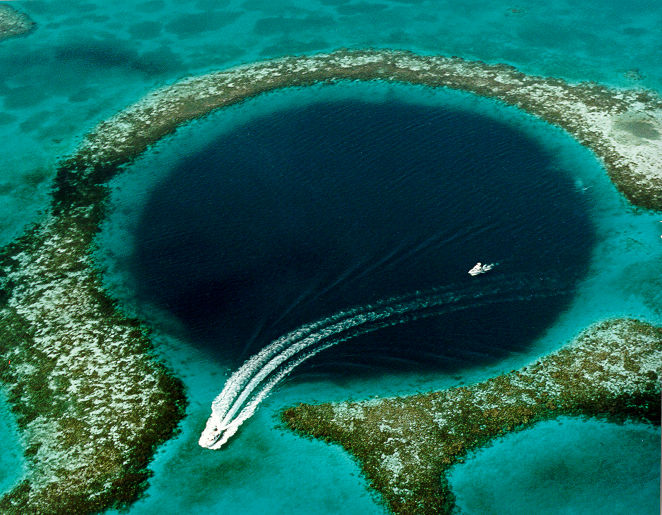 4. VISIT AN ART GALLERY:
A) BELIZEAN MELODY ART GALLERY:
   Belizean Melody Art Gallery was founded in 2008 by Melody Sanchez Wolfe a native of Ambergris Caye. It is currently located on Barrier Reef Drive two blocks down from San Pedro Central Park.
  It's a small art Gallery with original artwork by various local artists and locally made crafts. The team has also branched off in hosting private and public Paint Parties. You can find them at Nauti Crab every Thursday at 2 PM, feel free to find them on Instagram and Facebook for more information.

B) BELIZEAN ARTS GALLERY:
  Belizean Arts Gallery was founded over 30 years ago by an artist. The store which is located deep in Fido's Courtyard presently known as the black pearl restaurant and bar. It features a diverse collection of original paintings by leading artists together with artesano jewellery in gold and silver, wood and slate carvings, ceramics, Garifuna drums, Mayan masks, fabrics, and much more. Open daily until late. Paintings can be rolled for travelling or shipping.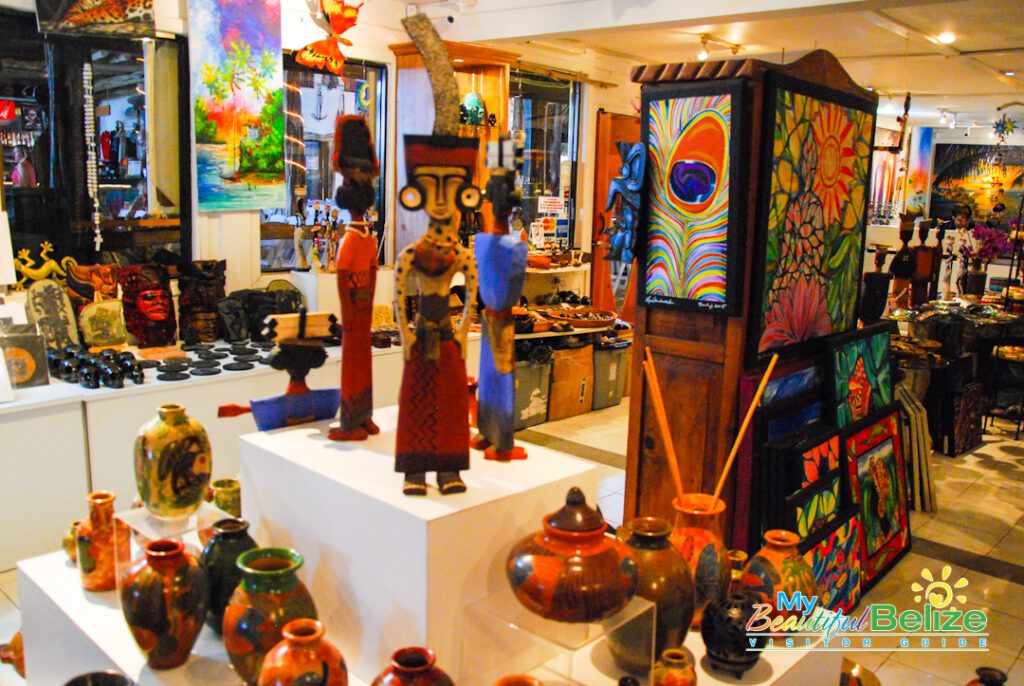 5 FISHING: FLY or DEEP SEA

A) FLY FISHING:
   We invite you to go fishing around the scenic flats of Ambergris Caye, Belize. This is a chance to experience the flats of the beautiful south and west coast of the cove with a local guide.
You can enjoy a day in the flats and inshore lagoons scouting, tailing fish, and schools of feeding fish. As for the catch, you can get a variety of species, including Tarpon, Snook, Permit, Bonefish, Mutton Snapper, Ladyfish, and some Cobia. It's fast-paced action, with brutes biting throughout the year.

B.) DEEP SEA:
   Ambergris Caye has some of the best fishing grounds in the Caribbean. Deep sea fishing, also referred as big game or offshore fishing, is done far away from the shore in waters that are at least 300  feet deep. To accommodate the rougher environment and bigger fish, a large boat that's at least 30 feet long is typically used for deep-sea fishing. It should be filled with rods and reels designed to catch and bring big game fish aboard.
Sport fishermen and tourists alike travel to Ambergris Caye to experience deep-sea fishing in Belize for, wahoo, sailfish, dorado "mahi-mahi", tuna, and blue marlin. These waters have seen some big catches over the years. Anglers will also find barracuda, kingfish, amberjack, grouper, and snapper closer to shore.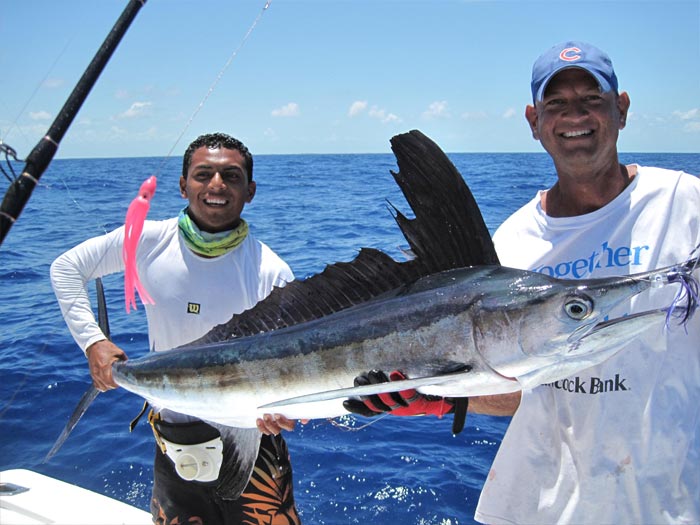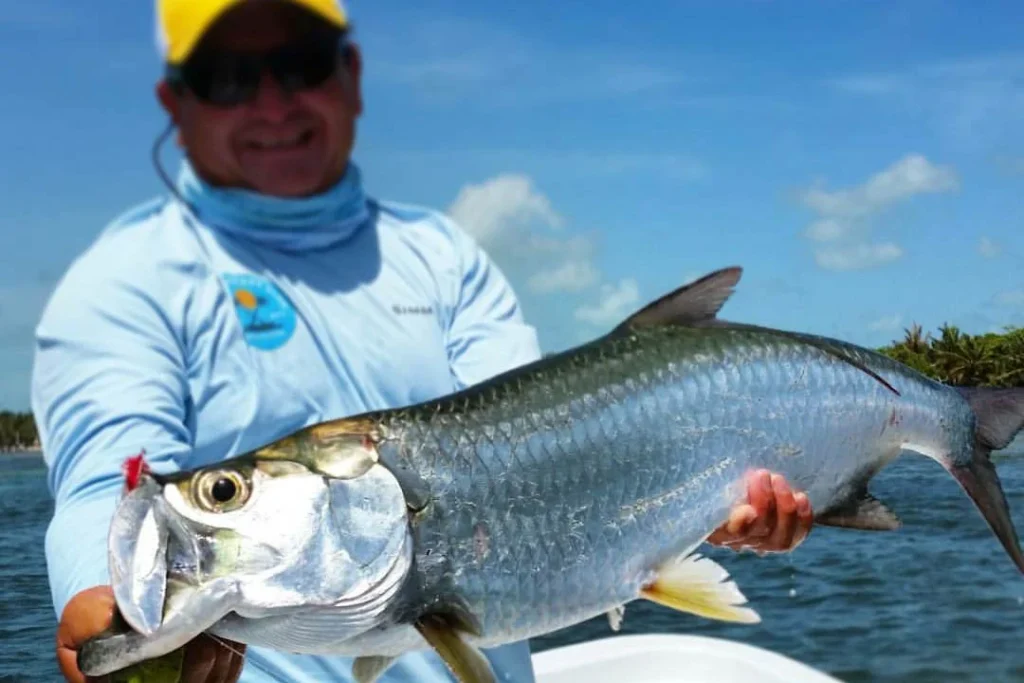 6. VISIT SECRET BEACH:
The famous secret beach also known as the not-so-secret beach is located on the northwest part of Ambergris Caye. Here you will find local bars such as Blue Bayou, Sunset Palace, and more. There is no reef on the northwest side of the island, however, it is equally beautiful. Here you will find yourself with relatively shallow turquoise waters along with rocky shorelines.
Secret beach is approximately an hour's drive from San Pedro Town and the most effective way to get there is by renting a Golf Cart.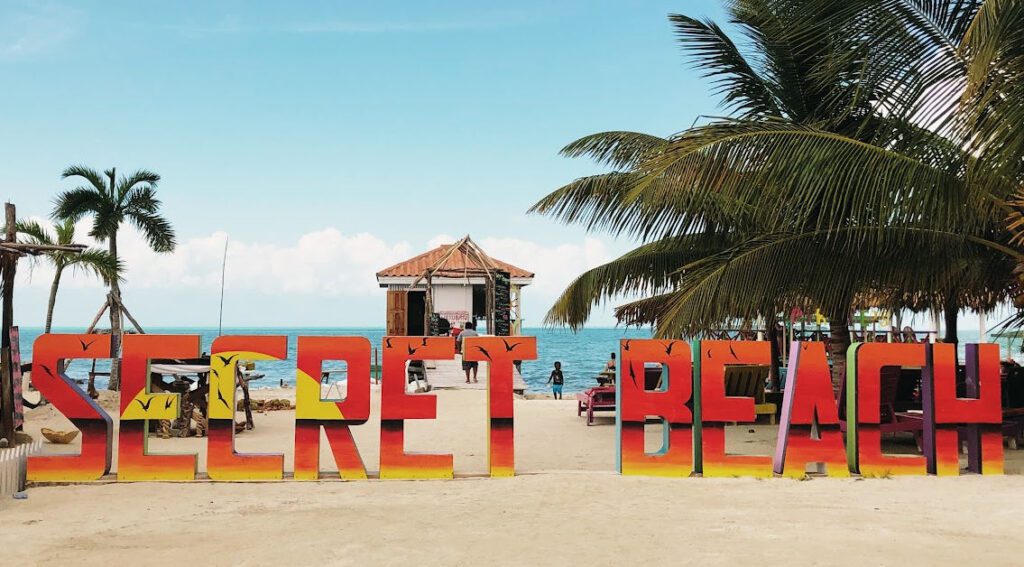 7. DINE AT THE TRUCK STOP:
   The Truck Stop is located a mile north of the bridge. It is Belize's first shipping container food truck park! They have a variety of exciting food options along with must-have ice cream.
They have different areas which you and your family can enjoy such as a swimming pool with a swim-up bar, the food court, the pavilion area where you can watch your favourite game show as well as a deck where you can view spectacular sunsets. They host an event every night of the week please follow the link to view: https://truckstopbz.com/events/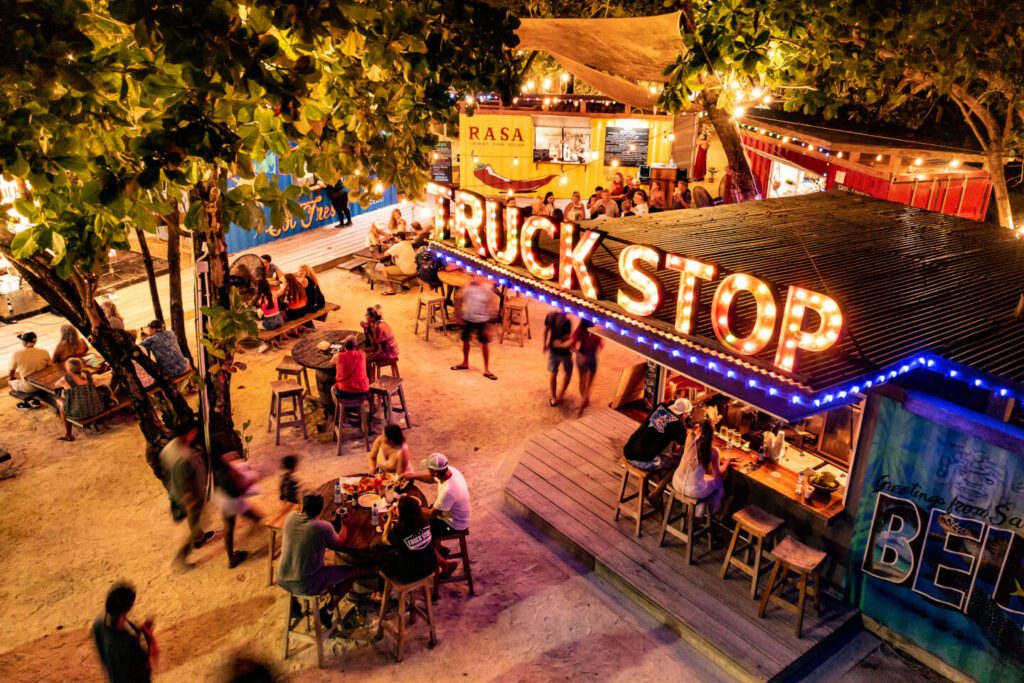 8. VISIT  NAUTI CRAB FOR A NIGHT EVENT:
  Located at Seven Seas Resort, Nauti Crab (formerly Crazy Canucks…now in a new location) is one of the most well-known beach bars in San Pedro. Something FUN is always happening at Nauti Crab!
Sunday 9 am: Brunch
Monday 12 pm: Guitar Jam
Tuesday 6 pm: Hermit Crab Races
Wednesday 5 pm: Bingo
Thursday 2 pm: Paint n Splash
Friday 6 pm: Trivia
  We do have live music events on occasion, please check our social media for special events. Happy hour is offered Monday-Saturday from 3-6 pm and drinks specials every day. Fun, sun, and sand at Nauti Crab.
Facebook Page – https://www.facebook.com/NautiCrabBelize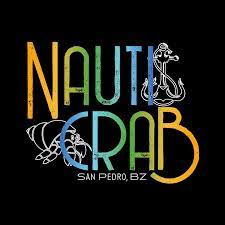 9. VISIT THE CHOCOLATE FACTORY:
The Belize Chocolate Factory is located at the south end of Barrier Reef Drive also known to locals as "Front Street". Belize Chocolate Factory purchases all its cacao beans from a small family farmer in Southern Belize. Most of these farmers are of Kekchi or Mopan Mayan descent. The sugar is purchased from northern Belize mainly from Yucatan Maya cane farmers.

Pop in their shop & cafe, as you walk in you will be surrounded by the aroma of delicious chocolate. While you are there, sign up for a chocolate class! If you do fall in love with their chocolate we are happy to inform you that they provide shipping to the US!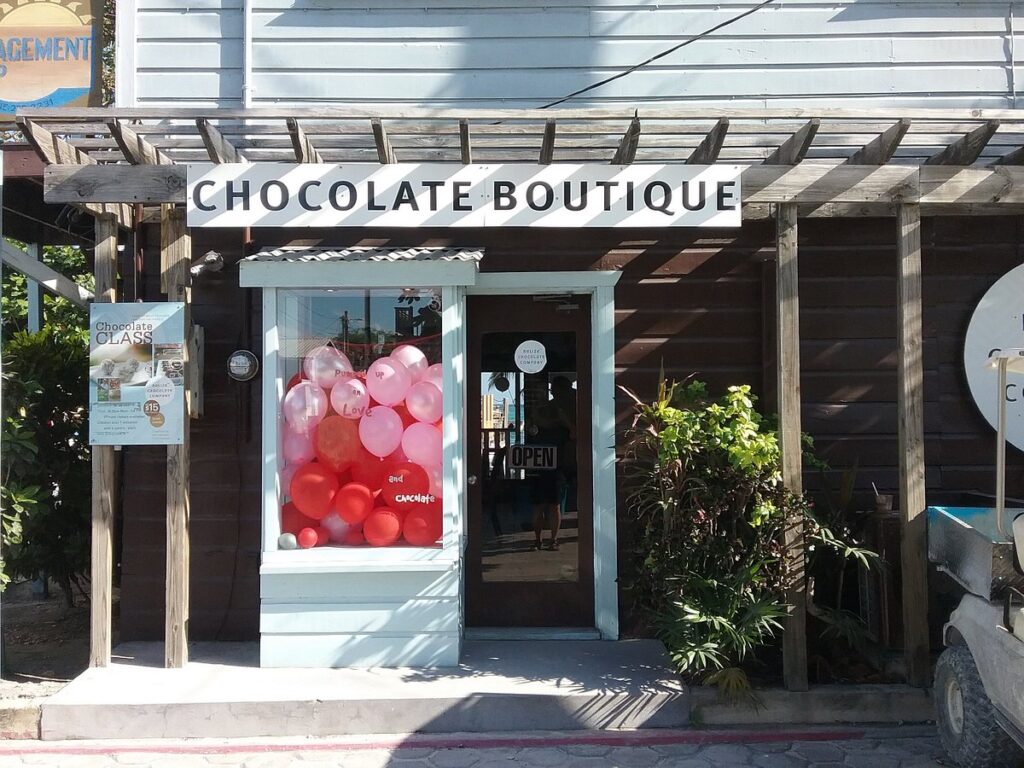 10 SHOP AT THE ARTISAN MARKET:
The Artisans Market is located on Angel Coral Street locally referred to as "back street". Here you will find a wide variety of souvenirs, there will be talented wood carvers showcasing their products such as wooden bowls, utensils, and carvings. As you move from one stall to another, you will see colorful handmade bags, purses, and hammocks. Here you will also find stylish jewelry made from natural materials like jippi-jappa and seashells. There is something for everyone at  San Pedro's Artisans Market.

We do highly recommend paying in cash however some stalls do accept both Visa and Mastercard.